(CNN) -- House Speaker Nancy Pelosi said she feels a "spirit of pride" thinking back over the new administration's first 100 days, but House Minority Leader John Boehner said it's become clear to him that the idea of bipartisanship "was a ruse."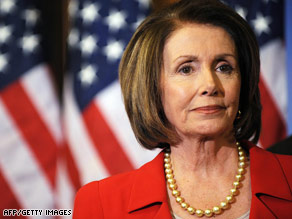 House Speaker Nancy Pelosi says it's an "exciting time" as Congress moves ahead with President Obama's agenda.
"I think if you look at the first 100 days, you can sum it up pretty simply: spending, taxing, borrowing and ducking the hard choices," Boehner said at a news conference Thursday.
Democratic policies, he said, are "going to hurt our economy and hurt jobs in America."
The Ohio Republican said Americans are "fed up with this unprecedented level of spending and borrowing that'll imprison the future for our kids and their kids," and he said the Republican Party has offered up better solutions in recent months.
"And as we get into these next few months, you'll see us continue to work to be the party of better solutions," he said.
Pelosi, however, praised the accomplishments of the past three months, noting that Congress, which began its term before the inauguration, has already passed its 100-day mark. April 29 marks President Obama's 100th day in office.
"The three pillars of the president's budget -- education, energy and health care -- have already been advanced down the field to a significant extent in the first three months," Pelosi said at her news conference.
"As we did that, we put ourselves on a path of taking the deficit down, increasing the number of jobs, lowering the deficit, as I said, and opening up government to much more transparency," she said.
Pelosi, D-California, said it's an "exciting time for us" as Congress moves ahead with legislation to "match the vision that the president asked us to match when he stood on the steps and said we want swift, bold action now on energy, on health care, on infrastructure, and that list goes on."
Boehner said that Democrats have ignored Republican ideas, and instead, "they've decided to go it alone, on a partisan basis, over these last three months."
"The American people want us to work together, Democrats and Republicans, to deal with the issues that they're confronting every day," he said.
Boehner said that after Republican ideas for the president's stimulus package were not implemented, "it became clear to me that all of this post-partisan talk and working down the middle and working together was a ruse."
Asked how he would grade the overall direction of the administration's first 100 days, he said, "the grade would not be very good."
"Considering that they came in, in the midst of this economic crisis, they clearly had a lot on their plate. I certainly want to be fair about this. And I think it's pretty clear to most of you that I've been pretty adamantly opposed to the way they've dealt with it," he said.
"Because at the end of the day ... the stimulus bill was supposed to be about jobs, jobs and jobs, and it turned into spending, spending and more spending."
But, Boehner said, as the administration nears the 100-day mark, Republicans "want to work with the administration, work with our Democrat colleagues to create bipartisan solutions for the problems that the American people face. So maybe we can have a new beginning today."
E-mail to a friend

CNN's Kristi Keck contributed to this report.
All About John Boehner • Nancy Pelosi • Barack Obama