By Ed Henry
CNN Senior White House Correspondent





WASHINGTON (CNN) -- Harsher interrogation techniques used on terrorist suspects yielded valuable information, President Obama's intelligence director said in a memo, but there is "no way of knowing" if other methods would have done the same thing, he said late Tuesday.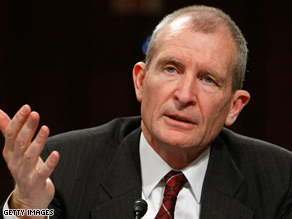 A memo attributed to Intelligence Director Dennis Blair addresses Bush-era interrogation techniques.
"High-value information came from interrogations in which those methods were used and provided a deeper understanding of the al Qaeda organization that was attacking this country," retired Adm. Dennis Blair, the director of national intelligence, said in the two-page memo dated April 16 and sent to colleagues.
CNN obtained the Blair memo from Republican officials who accuse the Obama administration of failing to tell the public the potential benefits of the interrogations.
The charge was hotly disputed by Blair's office. It suggested that the interrogations did yield some valuable information, but that value was outweighed by the negative aspects of the tactics.
On Tuesday night, Blair sought to clarify the two-page memo.
"The information gained from these techniques was valuable in some instances, but there is no way of knowing whether the same information could have been obtained through other means," Blair said in a written statement.
"The bottom line is these techniques have hurt our image around the world, the damage they have done to our interests far outweighed whatever benefit they gave us and they are not essential to our national security."
Obama officially banned the techniques during his first week in office, with his aides charging that they amounted to illegal torture.

Watch as Obama says U.S. can be protected and live up to its ideals »
Blair's office had released a public statement on April 16 that excluded information about the success of the interrogations. It has denied that it was an attempt to conceal information about successful interrogations.
Also on April 16, Obama released previously top-secret Bush administration memos laying out Republican lawyers' rationale for why they believed the interrogations were legal.
Blair said that he supported the release of the Bush memos, as well as Obama's decision to officially ban the interrogations.
"We do not need these techniques to keep America safe," he said.
Blair spokeswoman Wendy Morigi told CNN that the memo obtained from the Republican officials and the April 16 statement were entirely different documents.
Former Vice President Dick Cheney this week called Obama's release of the Bush memos "disturbing" and charged the administration is sitting on other CIA memos that would show that the interrogations helped stop terror attacks.
"They didn't put out the memos that show the success of the effort and there are reports that show specifically what we gained as a result of this activity," Cheney told Fox News on Monday. "They have not been declassified."
In his private memo, Blair stopped short of agreeing with Cheney and other former Bush officials who say the enhanced interrogations yield intelligence that actually prevented terror attacks.

Meanwhile, White House Press Secretary Robert Gibbs did not confirm that memos referred to by Cheney exist, and said the former vice president's request for declassifiation is a continuation of a long battle on substance.
"That policy disagreement is whether or not you can uphold the values in which this country was founded at the same time that you protect the citizens that live in that country," Gibbs said. "The president of the United States in this administration believes that you can."
E-mail to a friend

All About Barack Obama • George W. Bush