By Chris Welch
CNN





MINNEAPOLIS, Minnesota (CNN) -- While he waits to see whether the latest court ruling will allow him to take Minnesota's open seat in the Senate, Al Franken has been lying low.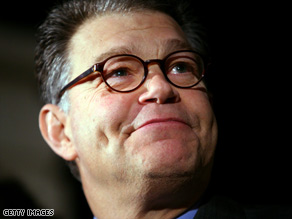 Democrat Al Franken has started hiring staff members for a Senate office.
Five months after a loss on Election Day, four months after he won in a recount, a week after prevailing in a tedious trial, the comedian and author might well be on his way to becoming the 59th Democrat in the United States Senate.
Even though that seat's incumbent, Republican Norm Coleman -- now referred to as "former senator" -- has appealed to the Minnesota Supreme Court, Franken's campaign has done what it can to give the appearance that he's getting ready to take the seat when Coleman exhausts his challenges.
Since winning the recount, Franken has made a handful of visits to Washington and has met with majority leader Harry Reid to discuss Senate business, according to Franken aides.
And on Monday, he began hiring staff for a Senate office.
On Election Day, the tight race was one of the few unresolved questions of the national picture as returns were counted. Would Democrats get 60 seats in the Senate?
That margin would allow Democrats to get just about anything accomplished in the Senate, allowing them to break filibusters, a Senate rule that allows the minority to basically bring the chamber to a halt.
But as it became clear that even if Franken won, the Democrats would come up one seat short, the race fell off front pages.
Don't Miss
Since November 4, Franken has been in the spotlight significantly less on the whole, but that wasn't necessarily unexpected.
Although he's ahead in the legal campaign, it's in his best interest to be patient and stay out of the spotlight.
"Very smart," CNN Senior Political Analyst Bill Schneider said of Franken's strategy. "It would irritate a lot of Minnesota voters if he declared himself the winner. He doesn't want to look presumptuous."
On the other hand, the burden has been on Coleman to prove that he was wronged. He's appeared on local and national programs to try to make that argument several times.
He was also a regular fixture during the seven weeks of open court, often sitting at the table with his team of counselors and at other times sitting in the gallery with press.
But since it was Coleman who went to court in an attempt to overturn the recount, analysts say, it's smart for Franken to stay away from the proceedings.
Franken even took a vacation in Florida in the middle of the proceedings, his staff confirmed.
He's also put interviews with national media outlets -- something most current senators do almost daily -- on hiatus.
CNN asked for an interview last week the day after his victory in court. The story would have focused on what his legislative priorities would be; a lot has changed since Election Day.
That request was denied, and one aide said the campaign wasn't doing any national TV. When it was pointed out that the story was for CNN's Web site, the response was still a polite "no."
The campaign also made it clear that it would not be providing an on-the-record explanation.
A CNN request months ago was also turned down. The reason? Franken was focusing on local media outlets and therefore would be doing no national media. One exception to this "no nationals" rule was The New York Times, which secured an interview with him last week.
Professor Larry Jacobs of the University of Minnesota says Franken's is typical media strategy.
"[Franken] has everything on his side. Why say anything to the national media if everything is going your way?" Jacobs said. "As soon as he starts speaking out, what he says will be used against him, such as 'he's trying to steal the election' or 'he's arrogant.' "
Jacobs says it's smart for Franken to remain silent, because the media focus will remain on the court, which has been siding with him anyway.
"Coleman is doing the media because he has to. He has to keep the hope of his supporters alive; he has to fundraise; he has to reverse this growing sense that the case is lost and he's lost the race," Jacobs said.
E-mail to a friend

All About Al Franken • Norm Coleman • U.S. Senate