By John King
CNN Chief National Correspondent






Editor's note: John King, CNN's chief national correspondent and "State of the Union" host, examines the news made in Sunday talk and offers up this Monday morning crib sheet on what to watch this week in politics. If you'd like to receive a sneak peek of this story in your inbox every Sunday, you can sign up for the "Political Ticker newsletter" at www.cnn.com/profile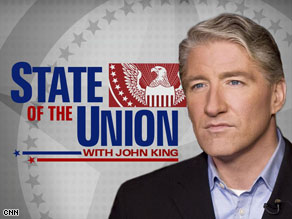 CNN's John King talks with newsmakers about the hot topics in Washington in the past week.
(CNN) -- There are Sundays where we make the news and Sundays where we just hang on and cover breaking news as best we can. This week, we had the best of both worlds.
There were some strong disagreements over policy on the talk shows, and then President Obama appeared live from the Caribbean nation of Trinidad and Tobago to wrap up four days of travel and summits that arguably resulted in dramatic changes to the basic tenets of U.S. foreign policy.
Obama's journey began Thursday in Mexico and finished with two days spent talking to leaders from across the Western Hemisphere. Some of them, such as Venezuela's Hugo Chavez, were viewed as extremely dangerous by the Bush administration.
When asked by CNN's White House correspondent Dan Lothian whether he was concerned that "this friendly interaction with Mr. Chavez" would mean that he would be perceived as being "too soft," his answer was blunt.
• "If the question is 'how does this play politically?' I don't know. One of the benefits of my campaign and how I've been trying to operate as president, I don't worry about the politics. I try to figure out what's right in terms of American interest, and on this one I think I'm right." -- Obama at his news conference in Port of Spain, Trinidad and Tobago
• "The whole notion was that somehow if we showed courtesy or opened up dialogue with governments that had previously been hostile to us, that that somehow would be a sign of weakness. The American people didn't buy it. And there's a good reason the American people didn't buy it, it doesn't make sense. It's unlikely that as a consequence of me shaking hands or having a polite conversation with Mr. Chavez that we are endangering the strategic interest of the United States." -- Obama
Cuba also on the agenda
'State of the Union'
John King reinvents Sunday talk: more time for more politics.
Sunday, 9 a.m. ET

Venezuela wasn't the only "previously hostile" nation on Obama's agenda. Before the summit, he had reached out to the Cuban government by lifting all restrictions on the ability of individuals to visit relatives in Cuba as well as to send them remittances -- significant changes in the decades-long embargo against the communist nation.
Obama reminded reporters that any further warming of the relationship would depend on "not simply words but deeds."

Watch the report on Obama reaching out to Cuba and Venezuela »
• "What I said and what my entire administration has acknowledged is that the policy we had in place for 50 years hasn't worked the way we want it to. The Cuban people are not free and that's our, our lodestone, our North Star when it comes to our policy in Cuba. It is my belief that we're not going to change that policy overnight and the steps that we took, I think were constructive in sending a signal that we'd like to see a transformation. But I am persuaded that it is important to send the signal that issues of political prisoners, freedom of speech, freedom of religion, democracy, that those continue to be important, that they're not simply to be brushed aside." -- Obama
The president was asked whether all these changes marked an "Obama Doctrine" in foreign policy. At first, he joked that it would be reporters who defined any such grand theory but then proceeded to outline some of the principles underlying his foreign policy.
• "No. 1, that the United States remains the most powerful, wealthiest nation on Earth, but we're only one nation and that the problems that we confront, whether it's drug cartels, climate change, terrorism, you name it, can't be solved just by one country. And I think if you start with that approach, then you are inclined to listen and not just talk." -- Obama
• "No. 2, I feel very strongly that when we are at our best, the United States represents a set of universal values and ideas. the idea of democratic practices, the idea of freedom of speech and religion and the idea of a civil society where people are free to pursue their dreams and not be imposed upon constantly by their government. So, if we are practicing what we preach and if we occasionally confess to having strayed from our values and our ideals, that strengthens our hand, that allows us to speak with greater moral force and clarity. ..." -- Obama
These are only a few highlights from the news conference. See the full transcript.
Don't Miss
Strong debate on Cuba, Venezuela
On the Sunday talk shows, any diplomatic openings to Venezuela and Cuba were vigorously debated:
• "You have to be careful when you're talking about the prestige of the United States and the presidency of the United States, you have to be careful who you're seeing joking around with. I think it was irresponsible for the president to be seen kind of laughing and joking with Hugo Chavez." -- Sen. John Ensign, R-Nevada, on CNN's "State of the Union"
• "All the president did was shake his hand like George Bush [did]." -- Sen. Amy Klobuchar, D-Minnesota, on CNN's "State of the Union" Read more on the senators' reactions
• "I'm not concerned about the message that it sends, I'm concerned about what flows from it. Words and handshakes are nice, but they're not enough." -- White House senior adviser David Alexrod on CBS' "Face the Nation"
• "This is an issue that will be decided on the basis of Cuba's behavior. ... It's about whether they really want to rejoin the community of nations in Latin America or not." -- Lawrence Summers, director of the National Economic Council, on NBC's "Meet the Press"
Release of Bush administration memos
Across the board, the most contentious issue, however, was last week's release of four Bush administration memos that stated that interrogation tactics such as waterboarding, sleep deprivation and slapping did not violate laws against torture. On "Fox News Sunday," Gen. Michael Hayden, former director of the CIA, said that the techniques "made us safer" and argued that the release of the memos was a serious error
• "At the tactical level, what we have described for our enemies in the midst of a war are the outer limits that any American would ever go to in terms of interrogating an al Qaeda terrorist. That's very valuable information. Now it doesn't mean that we will always go to those outer limits. But it describes the box within which Americans will not go beyond. To me that's very useful for our enemies." -- Gen. Michael Hayden on "Fox News Sunday"
In addition, Hayden said the memos eventually would prove damaging to the CIA. Read more about what Hayden had to say
• "There will more revelations, there will be more commissions, there will be more investigations. And this to an agency, again I repeat, that is at war on the front lines defending America." -- Hayden
• "One of the reasons the president was willing to let this information out, was already the information was out. So if they're saying that you've basically have exposed something, it's been written. Go get The New York Review of Books, it's there." -- White House Chief of Staff Rahm Emanuel on ABC's "This Week"
• "To have them public allows al Qaeda to train against them. I mean, do we really think that having 'advanced interrogation' techniques is something we don't want to use if we find Osama bin Laden?" --Ensign on "State of the Union"
• "The memos, the things contained in these memos are already in the public eye. We have heard countless reports about these kind of tortures. Everyone knew that waterboarding had been going on, and the administration admitted it was going on. President Obama took the two factors into consideration as well as the factor that he had decided that we weren't going to be doing this anymore." -- Klobuchar on "State of the Union"
• "I think the release of these memos is dangerous. I agree with what [CIA Director] Leon Panetta had to say when he made it clear that he thought that this would hamper our ability to get information from terrorists and get other countries to work with us." -- Minority Leader John Boehner, R-Ohio, on ABC's "This Week"
Republican Sen. Lindsey Graham of South Carolina, a military lawyer and an opponent of these methods, summed it up this way:
• "The idea of waterboarding being legal is certainly not the case anymore. And I always thought it was a procedure that would come back to the haunt the nation, and quite frankly it has." -- Graham on "Fox News Sunday"
Contributors also hot about memos
On "State of the Union," the memos were a topic of intense debate among our contributors.
• "There's a big debate whether this stuff works or not. People want to say the intelligence it produces is not good. [Hayden] says it is. We should have a debate as a country about whether or not this stuff actually produces intelligence." -- Democratic strategist James Carville on "State of the Union"
• "You're damn right this stuff works. That challenge has been put out there. This is information we got from Khalid Shaikh Mohammed that kept American cities and American people from being hurt. Now I don't think it's torture, but I don't care if you do call it torture." -- Conservative talk-show host William Bennett on "State of the Union"
Mary Matalin, a former adviser to Vice President Dick Cheney, sparred over many topics with Democrat Donna Brazile, but the conversation really got sharp when Matalin was asked about former Deputy Secretary of State

Richard Armitage's » recent statement that he hoped he would have resigned had he known of these interrogation techniques
• "If Richard Armitage, as the No. 2 guy in the State Department, didn't know that, not only is he devoid of courage, he is completely incompetent." -- Republican strategist Mary Matalin on "State of the Union" Read more about what Matalin said
Reading these words gives you a sense of how Matalin feels, but you really have to watch the video to see the cold fury in her eyes.

Watch Matalin and Brazile square off »
Echoes of the Oklahoma City bombing
It was appropriate that we had Homeland Security Secretary Janet Napolitano on shortly before the memorial service for the 168 people killed 14 years ago in the Oklahoma City, Oklahoma, bombing.
• "I think we're at a greater state of readiness. The threat of terrorism, whether from a foreign source or domestic sources, is now with us. We have to acknowledge that. We have to minimize the risk of it, and we have to be ready to deal with it. And I think, with the Department of Homeland Security, all of the changes that have occurred since Oklahoma City, since 9/11, there has been improvement." -- Napolitano on "State of the Union"
Napolitano also addressed the furor over a recently released department memo warning of possible terrorist dangers from right-wing groups, saying they were not concerned with the vast majority of conservatives.
• "... At the very edge are the extremist groups that have committed violent crimes. They've committed bombings and the like. And that is where you cross from constitutionally protected free speech and all of the rights we cherish into homeland security and law enforcement. When is that right not being exercised? It's being abused." -- Napolitano

Watch more of what Napolitano had to say »
Of tea and protest
And then there was pure politics. Wednesday's anti-tax "tea parties" were both defended and attacked.
• "The hundreds of thousands of people around America that showed up for these rallies, they understand that they're paying too much in taxes. But they're really concerned about the amount of spending that's going on in Washington and the amount of debt that's being piled up." -- Boehner on "This Week"
• "I think any time you have severe economic conditions, there is always an element of disaffection that can mutate into something that's unhealthy." -- Alexrod on "Face the Nation"
Preview of wrangling ahead
Emanuel gave a preview of the partisan battling expected when Congress returns this week.
• "When you're the party of no, when you're the party of never, when you're the party of no new ideas, that's not constructive. So my recommendation is we'll work with people of all sides, ideologies to get things done." -- Emanuel on "This Week"

Watch more on the post-tea party debate »
The last word

Sadly, the president's news conference ran long, and we were unable to broadcast one of our favorite segments. So we recorded it and put it up as an online feature.
On this Sunday, 34 pundits and politicians have spoken, but only one will have the last word. That honor goes to New York Gov. David Paterson.

Watch what Paterson had to say on same-sex marriage »


E-mail to a friend

All About Barack Obama • Hugo Chavez • Cuba