By Bill Schneider
CNN Senior Political Analyst






LOS ANGELES, California (CNN) -- Is Jerry Brown planning to run for governor of California next year? He sure sounded like it when I spoke with him this week.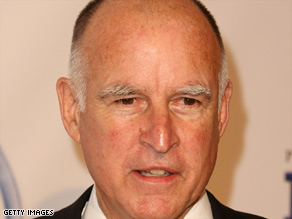 Jerry Brown, a one-time governor of California, is reportedly looking to run again next year.
Brown was first elected governor of California in 1974. At age 36. He was -- and still is -- the state's youngest governor since the turn of the 20th century.
And now?
"I think about the problems of California all the time, and, with the experience I've had as attorney general, lawyer to most of the state agencies, mayor for eight years and governor for eight years, I'd like to tackle the challenges that face the state," Brown told me. "I don't say that solving that budget thing is going to come easy, maybe not even in the first year, but I really think I can make an impact, particularly in energy, prison reform, education and water."
Brown, currently the state's attorney general, adds: "I would work very hard to transcend the poison of partisanship which has totally changed state government for the worse since I was there."
In fact, polls suggest Brown is the frontrunner in next year's race for California governor. He's 71 years old. If he wins, he would also become California's oldest governor.
Republican contender Steve Poizner alluded to that fact when his Web site marked the 40th anniversary of the day Brown first ran for public office.
Don't Miss
"When it comes to Jerry Brown and Election Day for California voters, it reminds us of the film 'Groundhog Day.' Every day is the same. Jerry's always on the ballot," Poizner said.
California's got huge problems, daunting even for "The Governator," Arnold Schwarzenegger. So I asked Brown, "Why would anybody want to be governor of California?''
"That is really a critical question. Having been there, I have to reflect on that,'' Brown answered. "It is an impossible job, or nearly impossible, but quite frankly I love this kind of work."
For Brown, it's the challenge -- one challenge in particular.
"That's one of the reasons I'm seriously thinking about running,'' Brown told me. "I consider a it challenge worthy of all the imagination and energy I can bring to bear to try to unravel this poisonous partisan mess that state government has become."
During his two terms as governor, Brown captured the public imagination. He was new, young, unconventional, cutting edge. He was called "Governor Moonbeam.''
Has he changed? Well, he did get married four years ago.
"When I was governor, I wasn't married. I stayed at the office until 11 or 12 o'clock at night and then went and spent a little time in Sacramento,'' Brown said. "Other people say that I'm a hell of a lot better now, having married Anne. All I can say is, good, I'm glad of that."
Can a 71-year-old man still be cutting edge? His thinking remains unconventional.
"I went to a Jesuit seminary and I lived in a very authoritarian, very black-and-white world,'' Brown explained. "When I left that a long time ago, I retained a skepticism and an independence and an inquiring mind that doesn't easily fit into the mold of either of the parties."
Brown may be the only politician ever brought down by an insect. In 1981, his handling of a Mediterranean fruit fly infestation that threatened the state's crops caused a lot of voters to hit the roof and doomed his 1982 Senate campaign.
Asked about his biggest mistakes, Brown answers Jesuitically.
"Even though I used to go to confession quite regularly in my youth, I hesitate to enumerate my flaws. My critics have done that so eloquently that I would rather leave it there," Brown told me.
Brown ran for president three times. Does he still harbor those ambitions?
"I'd say those ambitions have dissipated with time. Certainly, if I do run for governor, that's enough for one lifetime," Brown says today.
When Brown lost his bid for the Senate in 1982, he turned around and started a whole new political career, from the bottom: party chairman, radio talk show host, mayor of Oakland, and now attorney general.
Who says there are no second acts in American lives? After all, this is California.
E-mail to a friend

All About Jerry Brown