(CNN) -- President Obama doesn't have a one-on-one meeting scheduled with Venezuelan President Hugo Chavez, but if Chavez were to initiate a conversation, Obama would likely go along with it, White House press secretary Robert Gibbs said.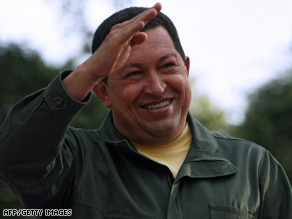 Venezuelan President Hugo Chavez said he is ready to talk with the U.S. president.
Obama on Friday arrived in Trinidad and Tobago for the Summit of the Americas, a meeting of leaders from North and South America. While there are no plans for a one-on-one with Chavez, the Venezuelan president is expected to be among several leaders at a multilateral meeting, Gibbs said.
Pressed on whether Obama would have a conversation with Chavez, should the Venezuelan leader pull him aside and initiate one, Gibbs said, "Every time I pull the president aside to have a conversation we've had that conversation, so I assume he would do the same."
Relations between the United States and Venezuela, historically close, grew progressively worse under the presidencies of Chavez and George Bush.
In an exclusive interview with CNN in February, Chavez said: "I am ready to talk with the U.S. president. Let's hope, and I have said this, perhaps we can restore the relations to the same level that we had with the Clinton administration."
"Perhaps we can start a new period of respect and relations that would be constructive," he added. "I have the faith that that is maybe possible. But it would depend on the U.S., on the president's attitude, attitude of the secretary of state, the administration. We will not accept lack of respect from anybody. We demand respect. We want honor for not only us, but all of Latin America."
On his first trip to Latin America as president, Obama has said that he seeks to engage in talks with the region's leaders as equals.
Chavez is a fierce U.S. critic who once described Bush as the "devil."
Chavez, who spent his career in the military before entering politics, was elected president in 1998 as a leftist reformer.
He withstood a coup attempt in April 2002, which he accused the United States of fomenting, and a recall referendum in August 2004. In a parliamentary election in late 2005, Chavez supporters gained control of the National Assembly, and a year later he was easily re-elected to another six-year term.
E-mail to a friend

All About Barack Obama • Hugo Chavez • Trinidad and Tobago