From Morgan Neill and Ed Hornick
CNN






HAVANA, Cuba (CNN) -- When President Obama arrives in Trinidad and Tobago this week for the Summit of the Americas, the one country in the region not present may be the one he hears the most about: Cuba.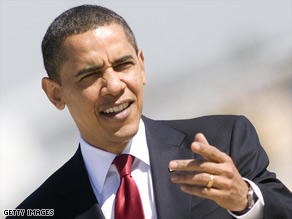 President Obama likely will hear from allies and critics at the Summit of the Americas about U.S. policy to Cuba.
Latin American leaders overwhelmingly oppose the U.S. trade embargo imposed on the communist island in 1962 -- years after Fidel Castro led a revolution to overthrow Cuba's Batista dictatorship.
Although Castro was credited with bringing social reforms to Cuba, he has been criticized around the world for oppressing human rights and free speech.
Several Latin American leaders have said they'll bring up the trade embargo at the summit.
But this time it's not just Washington's usual critics.
Last month at the White House, Brazilian President Luis Inacio Lula da Silva urged the U.S. to normalize relations with Cuba. Obama and Lula da Silva are among the leaders scheduled to attend the Summit of the Americas this week.
And Chilean President Michelle Bachelet visited Havana in February. After meeting with President Raúl Castro, she too urged the United States to stop trying to isolate Cuba.
"I am referring to something very concrete," she said, "the U.S. blockade against Cuba, which seriously affects the living conditions of the Cuban people, particularly in this current crisis."
But is the president listening?
"I think that the Obama administration hears it loud and clear. All the countries of Latin America and all the countries in the Caribbean have called on the United States to change its policy toward Cuba," said Phil Peters of the Lexington Institute.
Just this week, Obama eased some restrictions on Cuban-Americans who visit and send money to family on the island.
Obama also ordered new steps to promote the "freer flow of information among the Cuban people and between those in Cuba and the rest of the world, as well as to facilitate the delivery of humanitarian items directly to the Cuban people," White House press secretary Robert Gibbs said earlier in the week.

Watch more of Gibbs' comments »
In an interview with CNN en Español on Wednesday, Obama offered a prod and a carrot to Havana.
"What we're looking for is some signal that there are going to be changes in how Cuba operates that assures that political prisoners are released, that people can speak their minds freely, that they can travel, that they can write and attend church and do the things that people throughout the hemisphere can do and take for granted," he said.
"And if there is some sense of movement on those fronts in Cuba, then I think we can see a further thawing of relations and further changes."
In response, Cuba's leader said Thursday that his government is prepared to meet with the Obama administration.
"We've told the North American government, in private and in public, that we are prepared, wherever they want, to discuss everything -- human rights, freedom of the press, political prisoners -- everything, everything, everything that they want to discuss," Raúl Castro said Thursday at a summit of leftist Latin American leaders in Venezuela.
But the U.S. administration continues to remain steadfast in its negative assessment of the country's leadership.
On its Web site, the State Department officially recognizes the country as "a totalitarian police state which relies on repressive methods to maintain control. These methods, including intense physical and electronic surveillance of Cubans, are also extended to foreign travelers."
And not everyone in Washington is eager for change.
Cuban-American members of Congress, in particular, have voiced outrage over the easing of relations.
Florida Republican Sen. Mel Martinez, who was born in Cuba, doesn't want to see changes to the embargo.
"Having tourists on Cuban beaches is not going to achieve democratic change in Cuba," Martinez has said.

Watch CNN's Ed Hornick discuss U.S. relations with Cuba »
New Jersey Sen. Robert Menendez, a Democrat and Cuban-American, said in a recent speech that the Cuban government is "pure and simple a brutal dictatorship. ... The average Cuban lives on an income of less than a dollar a day."
Several members of Congress see broader relations with Cuba as vital to U.S. interests.
A group of senators and other supporters unveiled a bill March 31 to lift the 47-year-old travel ban to Cuba. "I think that we finally reached a new watermark here on this issue," said Sen. Byron Dorgan, D-North Dakota, one of the bill's sponsors.
Obama's policies appear to be tracking the overall public sentiment on what has historically been a hot-button political issue.
Seventy-one percent of Americans think the United States should re-establish diplomatic relations with Cuba, according an April 3-5 CNN/Opinion Research Corp. poll, and 64 percent think the United States should lift the travel ban to Cuba for all Americans. The sampling error for the poll was plus or minus 3 percentage points.
The past administration's policy on Cuba -- and tense relations with countries such as Venezuela -- could, however, pose some challenges for Obama.
Obama has sought to distance his administration from his predecessor's, noting he plans to close the detention center at Guantanamo Bay where "some of the practices of 'enhanced interrogation' techniques, I think, ran counter to American values and American traditions."
Obama's decision to change U.S. policy toward Cuba may blunt some of the criticism he'll face at the summit -- but certainly not all.
Bolivian President Evo Morales, fresh off a hunger strike seeking support in a conflict at home, has said he'll present a resolution to end the U.S. embargo.
And Venezuelan leader Hugo Chavez said last month he was already "preparing the verbal artillery" for the summit.
Obama offered no criticism when asked by CNN en Español how he plans to interact with Chavez, a fierce U.S. critic who once described President Bush as the "devil."
"He's the leader of his country, and he'll be one of many people that I will have an opportunity to meet," Obama said.

He said he believes the United States has a leadership role to play in the region, but he qualified that role this way: "We also recognize that other countries have important contributions and insights.
"We want to listen and learn as well as talk, and that approach, I think, of mutual respect and finding common interests, is one that ultimately will serve everybody," Obama said.
E-mail to a friend

All About Cuba • Latin America • Barack Obama