By Ruben Navarrette Jr.
Special to CNN





Editor's note: Ruben Navarrette Jr. is a member of the editorial board of the San Diego Union-Tribune and a nationally syndicated columnist. Read his column here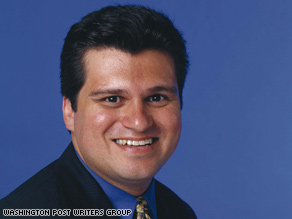 Ruben Navarrette says President Obama is right about the need for a full partnership with Mexico.
SAN DIEGO, California (CNN) -- President Obama doesn't speak Spanish. But after his trip Thursday to Mexico City to meet with President Felipe Calderon, it's clear that the two leaders speak the same language.
We know about the kinship that President George W. Bush had with Mexican President Vicente Fox, both of them ranchers and former governors.
But Calderon and Obama have also run in similar circles, both of them lawyers and Harvard graduates who are trying to change their countries for the better.
We could be seeing the renegotiation of the terms of the U.S.-Mexican relationship. The Mexican people have long complained that they are ignored and taken for granted by their northern neighbors. They say that political leaders and the U.S. media don't give Mexico or the rest of Latin America the amount of attention that we give to other parts of the world. And when the region does catch our eye, it's usually because something has gone wrong.
We tend to treat Mexico like a dysfunctional family that lives next door -- the one with its own reality show. We tune in when we want to feel better about our own problems. But there's always this arrogance, this sense that Americans are superior to their southern neighbors and that, when we do help out, it's usually an act of charity and not in our own self-interest.
Don't Miss
Consider the attitude in 1934, when U.S. Ambassador to Mexico Josephus Daniels described Mexican President Lazaro Cardenas as a "loyal soldier" who would be guided by orders from a "superior authority" such as the United States.
When it comes to dealing with Mexico and the rest of Latin America, Obama seems to have something else in mind: a relationship of equals.
On Wednesday, before leaving for Mexico, Obama told CNN en Español that "times have changed" and that, as the United States partners with its neighbors in Latin America to tackle an array of challenges, there is "no senior partner nor junior partner." And, in an opinion piece that ran ahead of his trip in several U.S. Latin American papers, Obama wrote that it's time for the United States to "move in a new direction" regarding policies affecting the Americas.
Obama continued that theme in Mexico. As expected, while the presidents also discussed immigration reform and trade, the dominant topic of conversation appears to have been a drug war that has already claimed more than 8,000 lives south of the border. And it was there that Obama had before him his most important task -- to reassure Calderon, this modern-day hero battling long odds and heavy artillery, that the administration is committed to standing beside him.
"At a time when the Mexican government has so courageously taken on the drug cartels that have plagued both sides of the borders," Obama said alongside Calderon in a ceremony in Mexico, "it is absolutely critical that the United States joins as a full partner in dealing with this issue, both through initiatives like the Merida Initiative, but also on our side of the border in dealing with the flow of guns and cash south."
Obama is right about the need for a full partnership. The White House has to deliver the $1.4 billion Congress approved in the Merida Initiative to help Calderon fight this war, crack down on U.S. consumption of illegal drugs by increasing penalties for casual users, and increase southbound interdiction of vehicles headed into Mexico.
It might even be necessary to send the National Guard to the border to help lighten the load on Border Patrol and Customs agents. And, if worse came to worse, and Calderon requested it, Obama may even have to authorize a contingent of U.S. Special Forces to launch an Iraq-style counterinsurgency operation against the cartels.
And the United States should do all this not to be a good neighbor to Mexico, but because it's good common sense to confront a plague that is affecting more than 200 U.S. cities now struggling with Mexican cartel-related drug dealing, murders and kidnappings.
Clearly the Mexican drug lords aren't playing games. So neither should we.
The opinions expressed in this commentary are solely those of Ruben Navarrette.
E-mail to a friend

All About Barack Obama • Felipe Calderon • Mexico