By Dana Bash
CNN Senior Congressional Correspondent





(CNN) -- Mary Theriault has been in the hospital more than a dozen times for her emphysema, but the last time she was rushed to the emergency room, doctors didn't think she'd go home.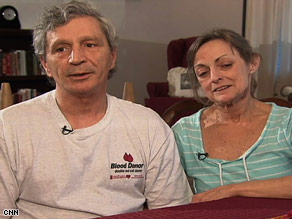 Stan and Mary Theriault say their lender agreed to restructure their mortgage after their congressman intervened.
"I honestly didn't think that she was going to make it," says Stan Theriault, Mary's husband of 40 years.
"That's when I decided to come off the road."
Stan is a truck driver, so coming off the road to be with his ailing wife meant quitting his job.
"I am in the end stages," Mary said of her emphysema.
"Life expectancy is 10 years after diagnosis. I'm on borrowed time. I'm on my 12th year."
In normal times, Stan says he would have no trouble getting a job driving routes close to home. But these times are far from normal, and he had trouble finding work.
The Theriaults missed a mortgage payment on their Sterling, Virginia, home. They contacted their lender and sent information about their situation but, "We never heard from them," Mary said.
Finally, on the brink of foreclosure, a friend suggested something they never thought of -- ask their congressman, Republican Frank Wolf, for help.
They called Wolf's office and sent him the relevant paperwork and information.
Suddenly, says Mary, the bank called and said, "Your congressman notified us, can I ask what's going on?"
With that chance to make their case, the lender agreed to restructure their mortgage.
"We had everything in hand within four days. It was incredible," says Stan.

Congressman comes to the rescue »
Wolf never met Mary and Stan Theriault, but he says he believes it's his job to be a resource for struggling constituents.
"I think a congressional office ought to find out what's going on in the district and be able to help," says Wolf.
That's why Lucy Norment in Wolf's northern Virginia office works full time trying to help economically desperate constituents in traditionally affluent suburbs.
She can't always save people from foreclosure, but says she can usually cut through the red tape with mortgage lenders. When they get a call from a congressman's office, they respond.
"It's really just asking them to consider the circumstances as laid out," says Norment. "The case comes on the front burners."
That kind of work is going on in lawmakers' offices all over the country, and it is bipartisan.
Democrat Rep. Elijah Cummings, who represents inner-city Baltimore, Maryland, says the number of people looking for help with foreclosures has increased five or six times.
"I've got to take care of my constituents. Many of them are drowning," Cummings says.
So, he hired Harry Spikes to troubleshoot for the Baltimore residents he represents.
Walk into Cummings' district office and you will find Spikes answering a call about someone's heat and lights being cut off.
Walk the Baltimore streets and you may see him trying to assist someone in the neighborhood.
"Yes, these are hard times, but you can help somehow. You can try," he says.

Spikes: 'There are certain things we can do' »
Spikes recently helped one of Cummings' constituents keep his home by organizing donations from churches and nonprofit agencies.
"I just found myself on the verge of being homeless. So I had to really come to grips with that, and I humbled myself and I made a call to the congressman's office," said the constituent, who asked not to be identified.

Constituent: 'I didn't want to be on the street' »

He learned the same lesson in inner-city Baltimore that the Theriaults learned in suburban Virginia: In tough economic times, your congressman isn't there just to debate and vote on legislative prescriptions in Washington. He can help, directly.
"That's what they're there for, to serve us, and we should use them," Stan Theriault said.
E-mail to a friend

CNN congressional producer Lesa Jansen contributed to this report.
All About U.S. Congress • Personal Finance • National Economy