From Elise Labott
CNN State Department Producer






WASHINGTON (CNN) -- Secretary of State Hillary Clinton on Wednesday unveiled a diplomatic initiative to thwart attacks on ships off Somalia's coast and combat what she called the "scourge of piracy."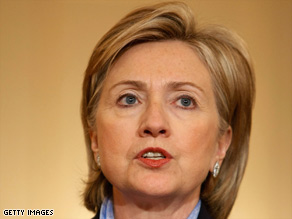 Secretary of State Hillary Clinton has called for measures to help combat pirate attacks off Somalia.
Clinton said the State Department will "explore ways to track and freeze pirate assets," similar to measures used against drug traffickers and terrorists.
Noting that the pirates have been buying more sophisticated vessels with the ransom money they have been collecting, Clinton said it could be possible to stop boat-building companies from doing business with pirates.
"These pirates are criminals. They are armed gangs on the sea. And those plotting attacks must be stopped, and those who have carried them out must be brought to justice," she told reporters after a meeting with Haitian Prime Minister Michele Duvivier Pierre-Louis.
The United States also will work with shippers and insurers to strengthen their defenses against pirates and will call for immediate meetings of an international counterpiracy task force to expand naval cooperation, Clinton said.
Although she did not suggest the use of military force, she mentioned "going after" pirate land bases in Somalia, which is authorized in a U.N. Security Council resolution passed in December.

Watch more of Clinton's comments »
Clinton said the United States also will seek to beef up the capacity of Somalia's fragile Transitional Federal Government by participating in a donor's conference on Somalia next week in Brussels, Belgium. The State Department also will urge Somali officials and tribal leaders to take action against pirates operating from bases within their territory.
"We have a pretty good idea where the land bases are and we want to know what the Somali government, what tribal leaders who perhaps would not like to have the international community bearing down on them, would be willing to do to rid their territory of these pirate bases," she said.
The steps announced by Clinton are part of a U.S. government-wide effort to grapple with the growing threat posed by pirates, exemplified by last week's capture of the Maersk Alabama and this week's failed attack on another U.S.-flagged ship off the Somali coast.
Clinton said there is a need for a more muscular approach to ending the threat posed by pirates, rather than continuing to tolerate it.

"The modus operandi for a lot of countries and shipping companies up until now has been, 'OK, they hijacked the ship. They get it into port. Nobody's harmed. We pay a ransom. We've done a business calculation. so that's the way it is,' " she said.
But, she added, "The United States does not make concessions or ransom payments to pirates."
E-mail to a friend

All About Hillary Clinton • Somalia