ATLANTA, Georgia (CNN) -- Across the country, in nearly every state, boom times are coming for programs to make homes more energy-efficient.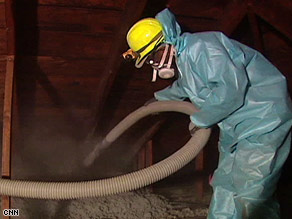 States will get $5 billion from the stimulus package for "weatherizing" the homes of the nation's poor.
For years, many states have had small, typically underfunded programs to help low-income families "weatherize" their homes, caulking windows, insulating attics and walls, sealing cracks and buying energy-efficient appliances. But those historically small government programs are now about to become inundated with vast sums of taxpayer money.
The massive government stimulus program now being organized by the Obama administration has specifically designated about $5 billion for the various state weatherization programs. But critics say the program will do little to create long-term employment and is vulnerable to fraud.
In many states, the stimulus funds mean budgets for weatherization will swell bigger than they have ever been. In Virginia, for example, the state program is expected to get about $94 million from the federal government -- more than 22 times the roughly $4 million in annual money the Department of Energy has previously given the state program.
"We've been calling it a tsunami of assistance," said Shea Hollifield, deputy director for housing in Virginia's Department of Housing and Urban Development. "It's huge. And of course, it's huge in a good way. But it still means that we've got a lot of work to do ahead of us."
Georgia's weatherization program is about to increase by more than 15 times, going from about $7.5 million in previous years to about $125 million under the new program. New Jersey's program is expected to rise from $10.5 million to nearly $122 million, and Pennsylvania is slated to get about $258 million.
The weatherization program means that low-income families can lower heating bills by as much as 32 percent, saving up to hundreds of dollars a year and reducing overall U.S. energy consumption, officials have said. In addition, the program is also supposed to bring a boom in jobs across the country as more workers are needed in nearly every state, Hollifield said.
"All of our crews across the state are adding people, and they will be looking to do a lot more subcontracting," she said. "So there will also be opportunities for the construction industry, which has been in a slump, now that they can perhaps participate in some of the weatherization work."
Don't Miss
In the past, the Virginia program has provided weatherization for about 1,500 households a year. But with the new funding, it may be able to weatherize as many as 10,000 households, Hollifield said.
The weatherization programs bring up to $6,500 per home for energy efficiency upgrades. They also increase the number of families that can get the assistance, by raising eligibility up to 200 percent of the federal poverty level -- to about $44,000 a year for a family of four. The eligibility was previously 150 percent.
The programs are supposed to spend the money within a few years, to help make the stimulus work. Phil Foil, the executive director of Georgia Environmental Facilities Authority, which administers the program there, said that should not be a problem.
"It could go pretty quickly, actually, because we've got people on waiting lists now to receive the weatherization upgrades on their home," he said.
The jobs are sorely needed in Georgia, which has a high unemployment rate of about 9.3 percent. Foil said the money could create or save between 5,000 and 6,000 jobs in the state.
"These are contractors and builders who are pretty much not doing much right now because of the slow growth in the building industry, and these people could potentially benefit from this," he said.
But while many people applaud the program, critics say the huge pots of money could mean a big rise in fraud.
"I mean, you're talking about billions of dollars for this program. The potential for fraud and abuse and losses is going to make [Hurricane] Katrina look like a picnic," said Leslie Paige, of the Washington-based watchdog group Citizens Against Government Waste.
In the past 15 years, prosecutors in Alabama, Ohio and New Jersey have brought criminal charges against people accused of misappropriating money from federally funded weatherization programs, CNN research has found.
In North Carolina, auditors found that $1.4 million in federal funds went back to Washington in 1999 after state officials lost track of the money, and a 2007 audit in Pennsylvania found the program there was plagued by "poor administration, inadequate funding and insufficient manpower."
The Department of Energy oversees federal weatherization assistance programs, which date back to 1976. Energy Secretary Steven Chu has warned that project managers must keep an eye out for fraud in the program, and Gregory Friedman, the department's inspector-general, told a congressional committee earlier this month that his office has begun working with state auditors to monitor how stimulus money gets spent -- "most notably in the area of weatherization."
But Paige also questioned whether the the new jobs created would last once the stimulus money is gone.
"Obama's program was meant to be a jobs creation program," she said. "I mean, these jobs are what -- caulking windows? These are not, I don't think, the kinds of jobs that he had in mind."
E-mail to a friend

All About Economic Stimulus • Economic Policy • Domestic Policy