By Jared Polis
Special to CNN






Editor's note: Rep. Jared Polis, a Democrat, represents Colorado's 2nd District in Congress and is appearing in CNN.com's "Freshman Year" series along with Rep. Jason Chaffetz, a Republican from Utah.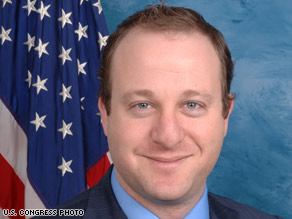 Rep. Jared Polis says he's introduced two bills to give tax breaks for investing in weak sectors of the economy.
(CNN) -- If becoming a member of Congress is like going to college, then crafting legislation is our homework.
Co-sponsoring a bill is fairly easy, like a group project which you work on with others. I've already co-sponsored over 30 bills, which means I've added my name as a supporter of a bill early in the process.
Sometimes the number of co-sponsors is important because it helps a bill get a hearing; other times it just makes a statement of support.
Introducing a bill, though, is more work than just adding your name. Think of it as the equivalent of a college term paper. This past week, I introduced my first two bills. We've been getting a few bills ready the last couple months and I have five more in the works.
You might be wondering how exactly we write and introduce a bill. Fortunately for us, members of Congress are not directly responsible for drafting the language (otherwise we would all have to be lawyers!) of our bills. The House of Representatives provides a special, nonpartisan staff of lawyers, called Legislative Counsel, who are experts in various areas of the law.
Members meet with Legislative Counsel, give them an outline and description of what we want to accomplish, and they come back to us with a draft of the bill. I went over the language of my bills with them line by line until I was fully satisfied that it accomplished my intent.
Given our nation's fiscal woes, I wanted my first two bills to address the recession and help get the economy going again. I've long admired "enterprise zones" -- a concept that promotes development of blighted areas, often in the inner city, by providing tax incentives for businesses to invest.
Don't Miss
Sen. Robert Kennedy introduced the first enterprise zone legislation, known as the "Urban Employment Opportunities Development Act of 1967." The bill offered accelerated depreciation schedules, federal tax credits, and job-training programs as incentives for employers to locate in urban poverty centers.
Enterprise zones have succeeded in attracting needed capital to our urban poverty centers. Businesses and investors that wouldn't otherwise give these blighted areas a second glance react to the incentives and invest. I see the current problems in the housing, banking and automobile sectors as analogous to the problems in neighborhoods bereft of access to capital, and am seeking legislation to address those problems.
As we look at taxes we can change, we need to look to the correct tax incentive that makes investments more desirable -- specifically, the capital gains tax. My bills would waive the capital gains tax on any investments made in the next 18 months and held for at least three years in the "enterprise sectors" of automobile companies, financial service companies, and residential real estate in areas affected by a high foreclosure rate.
My bills also address the fear many Americans feel that greedy corporate executives and shareholders are benefiting from government bailouts. They offer Americans a simple alternative to taking public TARP funds: private capital! In return, private investors willing to step-up and take on the risk would be exempt from paying capital gains tax on their gains.
Now that they're introduced, the real work begins. I have to collect co-sponsors, gather support and media coverage, and convince the Committee Chairman to hold a hearing. Since they are tax bills, they've been referred to the Ways and Means Committee.
My job now is to convince Chairman Charlie Rangel to hold a "markup" on it and issue it out of committee to the floor for the entire House to vote on. Sadly, 99 percent of bills never make it that far and waste away for years in the "hopper," without seeing the light of day.
Some members of Congress introduce dozens or hundreds of bills just for the sake of discussion or to draw attention. Other members introduce a choice few and work hard to get them through the system.
I'll probably be somewhere in the middle, introducing a handful of bills and with hard work and cooperation hopefully passing some into law. We're currently working on some in the areas of education and immigration.
We also approved the budget this past week. Congressional budgets are strange beasts. For all the sound and fury cable news makes, they signify very little as they aren't really followed anyway. There were five different budget proposals to choose from, but I found them all lacking.
The way the federal government does budgeting makes little sense to those of us with a business background. They treat capital expenditures, like buildings and long-term assets, the same way they treat operational expenditures, so it's really impossible to tell if we have a surplus or deficit or what.
Obviously given the recession, I'm pretty sure we have a big deficit. But the budget does include items that become assets and depreciate slowly over time as expenditures, so hopefully the deficit isn't as bad as some say. I voted for the "Obama budget" out of support and admiration for our new president's agenda.
While I am thrilled the budget assumes the passage of major health care reform this year, we still need to actually pass a health care reform bill for it to happen. I support universal coverage and hope the reform plan that reaches the House floor finds a way to cover everyone either publicly or privately.
After voting on the budget, our spring recess began. A celebrity gossip show I had never heard of, TMZ, has taken to covering us politicians. Have the stars suddenly gotten so boring that they are starved for content? An undercover TMZ reporter recently shoved a camera in my face as I was walking between the Capitol and our office and asked what I was doing for "spring break."
The spring recess is anything but a break and most members of Congress work even harder at home than they do in Washington. Back in our districts we hold town hall meetings and tour offices, factories and farms, and meet with constituents. We also use these recess periods for foreign travel to learn more about U.S. activities in areas like Colombia and Iraq. So where am I going? Tune in next week to find out.
The opinions expressed in this commentary are solely those of Jared Polis.
E-mail to a friend

All About Troubled Assets Relief Program • Tax Policy • Charles Rangel