(CNN) -- As the Defense Department weighs options to prevent a repeat of the drama that unfolded on the seas this weekend, those who patrol the waters say pirates must be rooted out before they leave land.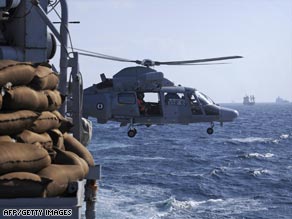 International naval patrols have been stepped up in the Gulf of Aden following increased pirate attacks.
Pentagon planners are preparing a variety of options for dealing with Somali pirates, and a United Nations resolution gives them the authority to conduct operations inside Somalia.
"The ultimate solution for piracy is on land," said Vice Adm. William Gortney, commander of U.S. Naval Forces Central Command and the Combined Maritime Forces.
"Piracy around the world stems from activity where there is lawlessness, lack of governance, economic instability; things of that nature. And wherever you have that, you're going to have criminal activity at sea," he said at a Monday briefing.
Ethiopia invaded Somalia in December 2006 to prop up a U.N.-backed transitional government in Mogadishu after a hardline Islamist group overtook the capital and seized power. Earlier this year, Ethiopia withdrew all of its troops.
Efforts to replace the Ethiopians with an African Union-led peacekeeping mission faltered as the violence worsened, and heavy fighting in Mogadishu and other cities drove hundreds of thousands from their homes.
The lawlessness also spilled onto the seas off the Horn of Africa, where international vessels are routinely hijacked by pirates, suspected to be Somali, who demand large ransoms.
Don't Miss
The U.S. military on Sunday killed three pirates who had been holding the captain of the U.S.-flagged Maersk Alabama hostage on a lifeboat off the coast of Somalia for nearly five days. Snipers shot the pirates and rescued Capt. Richard Phillips.
President Obama praised the efforts of the U.S. military and other departments involved in the rescue operation, and said he is determined to halt the rise of piracy in the region.
"To achieve that goal, we're going to have to continue to work with our partners to prevent future attacks. We have to continue to be prepared to confront them when they arise. And we have to ensure that those who commit acts of piracy are held accountable for their crimes," he said.
Between January and February, only two pirate attacks were reported off the east coast of Somalia, according to the International Maritime Bureau, which tracks piracy worldwide. In March, attacks in the same area spiked to 15, according to the bureau, and the attacks have continued into April.
The sudden surge of pirate attacks has prompted the U.S. military to put out a new alert to mariners, warning of increased danger in the region.
Defense Secretary Robert Gates said Monday the military alone can't solve the problem.
"There is no purely military solution to it," he said at the Marine Corps War College in Quantico, Virginia. "And as long as you've got this incredible number of poor people and the risks are relatively small, there's really no way in my view to control it unless you get something on land that begins to change the equation for these kids."
The fight at sea can be treacherous. The area involved off the coasts of Somalia and Kenya, including the Gulf of Aden, is more than 1.1 million square miles -- four times the size of the state of Texas.
The military has aerial surveillance and unmanned drones, but even a limited strike risks injuring Somali civilians.
"Quick, targeted special operations strikes would do much more to very quickly bring the piracy to an end than would very spotty enforcement at sea," said Chas Henry, with the U.S. Naval Institute.
State Department spokesman Robert Wood said Monday that it's crucial to deal with the "root cause" of the piracy issue, which he said is lawlessness and the lack of a stable government in Somalia.
"What we're trying to do is work with a number of countries in the region and around the world to ... help bring some political and economic stability to Somalia," he said at a news briefing.
Wood said the United States has been encouraging governments to prosecute suspected pirates.
He said the government is also "working with industry and with the International Maritime Organization to help ships try to avoid these types of piracy incidents."
Last June, the United States co-sponsored U.N. Security Council Resolution 1851, which authorized nations to enter the the territorial waters of Somalia and use "all necessary means" to repress acts of piracy.
In January, an official Contact Group of more than 20 nations focused on the issue was created. Wood said the group is working "to provide countries in that area with increased capabilities, information sharing, better coordination in terms of trying to deal with these incidents of piracy."
Defense officials note that piracy is a crime, not an act of war or terrorism. And, so, the solutions are being planned in conjunction with other U.S. departments' focus on diplomacy and legal matters.
Some defense officials say private shipping companies have to step up to deter pirates, whether it be using evasive maneuvers or stringing barbed wire along their ships.

But shipping companies tend to pay the ransom rather than worry about having to equip their ships, said security expert Karin Von Hippel, because it's far cheaper for them to just pay up.
Experts in the region say that in the long run, Somalia has to change -- and be changed -- and that Somalis must be convinced that the pirates they see as heroes protecting their coastline are actually thugs who are preventing their country from receiving aid.
E-mail to a friend

CNN's Candy Crowley, Kristi Keck and Chris Lawrence contributed to this report.
All About Barack Obama • Gulf of Aden • Pirates • Somalia