By Elise Labott
CNN State Department Producer






(CNN) -- Secretary of State Hillary Clinton called on the international community Tuesday to commit dollars and manpower to help Haiti recover from a year of hurricanes and food riots.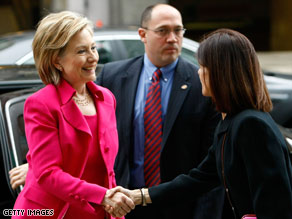 Secretary of State Hillary Clinton is greeted at the Inter-American Development Bank April 14.
"It is our task to open the door of opportunity for Haitians and send a message of what could occur," she told a group of more than 40 nations and international organizations gathered for a donor's conference for the Western Hemisphere's poorest nation.
Clinton spoke a day before leaving for Haiti, after which she will travel to the Dominican Republic and then join President Obama at the Summit of the Americans in Trinidad and Tobago.
She pledged $57 million in U.S. aid to boost Haitian security, build roads, create jobs, fight drug trafficking and help Haiti with food shortages and debt caused by the global economic crisis and several devastating hurricanes. The United States, she said, is already providing nearly $290 million in non-emergency aid to Haiti this year.
Warning that the tiny nation of 9 million people "is on the brink of either moving forward with the help of the collective community or falling back," Clinton called international aid a global "test of resolve and commitment to Haiti."
Haiti is one of the poorest nations in the world, with one of the biggest gaps between rich and poor, Clinton said. It has the highest unemployment rate in the Western Hemisphere, with 70 percent of the population without jobs. A million more youth will be coming into the work force over the next five years which will trigger what economists call a "youth Tsunami."
The country also has the highest rate of infant mortality and HIV/AIDS in the region.
Don't Miss
But Clinton and UN Secretary General Ban Ki Moon, who traveled last month to Haiti with Clinton's husband, former President Bill Clinton, voiced optimism at Haiti's potential due to political stability and economic growth after decades of chaos.
"This is a breakout moment to help one of the poorest nations lift itself to a future of hope," he said.
Calling the prospects for the tiny nation "better than almost any other emerging economy," Ban predicted Haiti, which will qualify this year for debt relief from international financial institutions, "is poised to make more progress over the next two years than it has made in the past two decades."
Haitian Prime Minister Michele Duvivier Pierre-Louis, credited with much of the country's political reforms, warned the country is at a "critical juncture."
"Time is of extreme importance," she told the audience. "If we cannot deliver today and we can't find the means to transform the vision of the future, we will be held collectively responsible for not hearing the millions of voices."
Pierre-Louis detailed a program which the government hopes will to bring Haiti out of poverty and chaos and draw foreign investment, after years of political mismanagement, violence and chaos.
"The repercussions of these bad practices and policies will take years to be reversed but it is important that we start now and today," she said. "We are treading on very fragile ground. If we take no action now the results will be catastrophic."
Clinton gave a personal account of her "deep commitment" to Haiti, which she said she visited with her husband, former President Clinton, as a newlywed and again as first lady. She said she has a lot of Haitian art in her home and has several Haitian friends.
She also praised the hundreds of thousands of Haitian immigrants living in the United States, including in her home state of New York, where she served as a senator for eight years.
She called on donors to partner with the United States on various programs in an effort to "re-ignite (Haiti's) path to progress," which is in danger of being stalled due to a combination of several hurricanes in recent years and the global economic recession.
She said the United States was creating a charitable organization so Haitian Americans and others could contribute toward Haiti's development.
"Now is the time to up our investment in Haiti, because Haiti has a real opportunity to make substantial progress," she said.
She also called for investment in Haitian agriculture, clean energy and reforestation.
E-mail to a friend

All About Hillary Clinton • Haiti