By Jason Chaffetz
Special to CNN





Editor's Note: Rep. Jason Chaffetz, a Republican, represents the 3rd District of Utah in Congress and is appearing in CNN.com's "Freshman Year" series, along with Rep. Jared Polis, a Democrat from Colorado.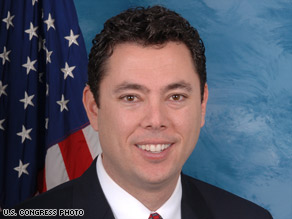 Jason Chaffetz says statistical sampling could be use to manipulate the results of the 2010 Census.
(CNN) -- On April 1, I got ambushed by Democrats. Upon returning from the House floor, I found that my living quarters in my office had been sabotaged by staffers of Rep. Jared Polis.
Gone were my M&Ms, Pop-Tarts, pudding and candy. In their place: apples, Kashi crackers, Super Shots yogurt and Veggie Burgers. Then the ultimate insult -- Democrats on Fire Hot Sauce -- right there in my own office!
I often get asked what it's like to work with Democrats on the Hill. For me, it's a little bit like a scrimmage game. We play for opposing teams all day long. We talk trash about one another's proposals. Each side thinks a win for their team is a win for America. But at the end of the day, ideally we should all be on one team working for the good of our country.
Partisan battles can certainly be bruising. I know some Americans are turned off by politics because they perceive constant fighting and bickering. I am finding that the battles are rarely personal. The differences between the two major parties are significant and substantive, but the healthy debate that results from our exchange of ideas is good for America.
This week, differences surfaced with regard to the upcoming U.S. Census Bureau count. For both parties, there is a lot riding on the numbers.
Although I believe Democrats want a fair and accurate census in theory, I don't think they're very motivated to root out problems that might ultimately favor them. This is where the healthy debate and exchange of ideas works in the American people's favor. Someone has to speak out against the potential threat to an accurate census. Where one party may not be sufficiently motivated to do so, the other is.
The significance of the decennial U.S. Census is certainly not lost on the residents of Utah. Undercounting in the 2000 census cost Utah a fourth seat in the House of Representatives. Residents are acutely aware of the effect an inaccurate census count can have on redistricting decisions.
For both parties, the redistricting implications of the next count will be significant.
Don't Miss
With a few exceptions, blue states seem to be losing jobs and population to red states. I don't think that's an accident, but that's a story for another day. Over the next 10 years, some $3 trillion will be allocated based on census data. That's some $300 billion per year that is allocated for road projects, schools, educational programs and social services.
Democrats and Republicans fundamentally disagree in their approach to the census. Republicans favor an approach that mirrors the language of the Constitution -- counting each person.
Many Democrats prefer to move toward statistical sampling. The new administration recently appointed a statistical sampling expert to be the next census director. They insist that sampling, when applied correctly, can yield very accurate results.
My concern is whether sampling would actually be applied correctly. I believe sampling opens to the door to manipulation of data. Sampling is based on assumptions, and those assumptions can easily skew the numbers.
A secondary concern that Democrats do not seem to share is the potential for fraud as a result of questionable partnerships between the Census Bureau and political organizations like ACORN. There are no clear guidelines that would exclude anyone from becoming a partner -- a role in which organizations help promote the census, recruit census workers, and host census training sessions.
Last week, I had the opportunity to question Thomas L. Mesenbourg, the acting director of the U.S. Census Bureau. I asked Mesenbourg whether there were any clear guidelines or criteria for selecting partner organizations. I wanted to know what might exclude a group from being a partner. "We don't have a hard line," he told me.
I asked whether involvement in corruption or voter fraud would exclude a group from participating. He said such allegations would give them pause if there was proof against an organization, but he acknowledged the Census Bureau does not have the capability of background checking individuals within partner organizations.
Given past allegations of voter fraud and partisanship, I am concerned that groups such as ACORN may compromise our commitment to a fair and accurate census count. I am hopeful that the penalties for fraud will discourage dishonest tactics. But everyone loses when the numbers are wrong -- even if the short-term result favors one political party over another. We can't afford to set a precedent we will later regret.
I know I am willing to set aside a greasy cheeseburger to make room for a veggie burger every once in awhile, even if the veggie burger came from a Democrat. In that same spirit, my hope is that the Democrats don't hold steadfast in their support of using methods and groups that may pose harm to getting the people's business done fairly and accurately.
The opinions expressed in this commentary are solely those of Jason Chaffetz.
E-mail to a friend

All About Utah • Democratic Party • Republican Party • U.S. Census Bureau