CHICAGO, Illinois (CNN) -- Former Illinois Gov. Rod Blagojevich, who was impeached and removed from office earlier this year, pleaded not guilty Tuesday to federal corruption charges.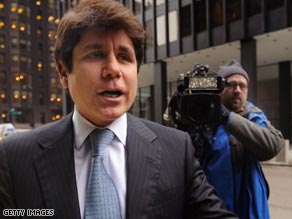 Former Illinois Gov. Rod Blagojevich walks to Tuesday's court proceeding in Chicago.
A federal grand jury indicted him this month on 16 felony counts, including racketeering, conspiracy, wire fraud and making false statements to investigators.
Blagojevich denies all charges.
"Now we can begin the process of getting the truth out and I can clear my name and vindicate myself," he said in a statement released through his public relations agency.
"I have not let down my family or the people of Illinois. I am innocent of every single allegation," the statement said.
The indictment also charges some of Blagojevich's closest aides and advisers, including the former governor's brother, Robert Blagojevich, in a wide-ranging "scheme to deprive the people of Illinois of honest government," according to a statement released by the U.S. attorney's office after the indictment.
Blagojevich was arrested in December on federal corruption charges alleging that, among other things, he conspired to sell President Obama's vacant U.S. Senate seat.
Blagojevich, dressed in a dark suit, arrived at the U.S. District Court shortly before Tuesday's proceedings began.
He has maintained his innocence since his arrest in December. "I'm saddened and hurt but I am not surprised by the indictment," he said in a written statement on April 2. "I am innocent. I now will fight in the courts to clear my name."
Robert Blagojevich also pleaded not guilty on Tuesday. Others named in the indictment -- Blagojevich's former chief-of-staff, John Harris; his former chief fundraiser, Christopher Kelly; and Springfield millionaire William Cellini -- will be arraigned Thursday.
The charges are part of what investigators have dubbed "Operation Board Games," an ongoing investigation into political corruption in the state.
Blagojevich is accused of denying state business to companies that would not hire his wife, extorting campaign contributions from a children's hospital that was set to get state money and pressuring a racetrack executive to give political contributions before the governor signed a gambling bill.
The indictment said that after Obama was elected president, Blagojevich began meeting with others to figure out a way he could make money from his position to appoint a replacement senator.
It said Blagojevich asked others, including state employees, to contact people who may be interested in the seat, and that he believed an associate of someone referred to in the indictment as "Senate Candidate A" had offered $1.5 million in campaign contributions in exchange for the appointment.
He had asked his brother to meet with an associate of "Senate Candidate A" and say that some of those contributions needed to come through before he made the appointment, but the meeting was canceled after a newspaper article reported that Blagojevich had been recorded talking about selling the seat.
A lengthy FBI affidavit alleges that Blagojevich was intercepted on court-authorized wiretaps trying to profit from the Senate vacancy.
The indictment said that Blagojevich communicated "directly and with the assistance of others" with people he believed were in contact with Obama, trying to gain political favor by possibly appointing someone the president-elect supported.

After his arrest, but before he was removed from office, Blagojevich appointed a former state comptroller and attorney general, Roland Burris, who was seated in the Senate despite protests from the chamber's Democratic leaders. Those leaders said a special election should be called because of the controversy over the appointment.
The Illinois House of Representatives voted overwhelmingly in January to impeach Blagojevich, accusing him of abusing his gubernatorial power. The state Senate voted to remove him later that month.
E-mail to a friend

CNN's Katherine Wojtecki contributed to this report.
All About Rod Blagojevich • Illinois • Roland Burris