WASHINGTON (CNN) -- A plane carrying U.S. Rep. Donald Payne was fired on as it left the airport in Mogadishu, Somalia, but it departed safely and landed without incident in Nairobi, Kenya, his office said, citing U.S. State Department officials.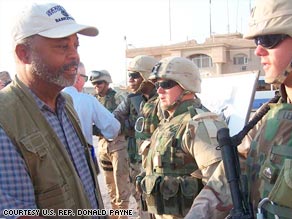 U.S. Rep. Donald Payne, D-New Jersey, meets with soldiers in Iraq in an undated photo.
"We understand that his plane was fired on ... as he left ... but that they have left safely and that no one was hurt," said Kerry McKenney, the spokeswoman in his Washington office.
Police officers at the airport told Payne's staffers in Washington that the plane carrying Payne was damaged in the attack, she said, but the severity of that damage was not immediately clear.
Payne told CNN's "The Situation Room" that he was unaware of the attack at the time.
"We were informed when we arrived in Nairobi that was a report of some mortar shelling at the airport about the time of our takeoff," Payne said.
Payne, who was traveling with an Africa expert from the Library of Congress, was the only lawmaker on the trip, McKenney said. They traveled to London, England, on April 9 and, two days later, to Djibouti, she said.
Payne told CNN that he was traveling in his role as chairman of a House subcommittee on Africa, and that the State Department had warned him travel into Somalia was unsafe.
"We were informed by the State Department that they had not authorized any of their personnel to visit Mogadishu, and we were aware of the threat," he said. "It was the African Union that was there in full force, and there was certainly adequate security."
"We provided the congressman with a briefing and gave him a very frank and straightforward assessment of the security situation on the ground," State Department spokesman Robert Wood told reporters. He also said the State Department issued an advisory warning Americans not to travel to Somalia.
Payne travels to Africa often, and a plane carrying him was attacked during a previous trip to Somalia, McKenney said.
The New Jersey Democrat and chairman of the Subcommittee on Africa and Global Health was visiting Somalia because "he felt it was important to travel there to see first-hand what was happening," McKenney said. The trip was planned before the Maersk Alabama pirate drama, though the ongoing issue of piracy was on Payne's agenda, she said.
Payne said he believed the United States could help lessen the piracy problem with strong support of Somalia's new government, in place for two months.
"I believe that a stable Somalia is really a key to a stable Africa," Payne said.
"I think that if we support this new government that we would see a decline in piracy," he added. "I think that it would be a dollar certainly well spent, because President [Sheikh] Sharif feels that you can stop piracy on the ground. Once they get out into the water, it gets very difficult."
Earlier Monday, a journalist in Mogadishu said mortar rounds and gunfire were heard near the airport shortly after Payne ended a news conference with Somalia's Prime Minister Omar Abdirashid.
Payne was scheduled to spend four to five hours in Mogadishu at the conclusion of the trip to meet with both the prime minister and members of the African Union, McKenney said.
The African Union is an organization promoting greater integration and cooperation among various African countries.
E-mail to a friend

CNN's Deirdre Walsh and Dana Bash in Washington contributed to this report.