(CNN) -- On last Sunday's "Reliable Sources," I made a last-minute decision to add an item about Bristol Palin's ex-boyfriend -- not because I'm particularly fascinated by the ex-boyfriend, mind you, but because Sarah Palin had just ripped Levi Johnston apart.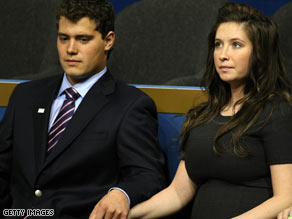 Levi Johnston and Bristol Palin appeared together at the Republican National Convention in September.
"We're disappointed that Levi and his family, in a quest for fame, attention, and fortune, are engaging in flat-out lies, gross exaggeration, and even distortion of their relationship," the Alaska governor said in a statement released by her office.
Not since the last time she opened fire on a caribou has Palin used that kind of ammunition -- which had the effect of boosting interest in the young man's appearance with Tyra Banks. And the Tyra sitdown got Levi an even bigger audience, with Maggie Rodriguez on CBS's "Early Show."
What a mess. But is it a highly personal mess involving two 18-year-olds that we in the media should avoid?
I put that question to Deborah Norville of "Inside Edition" and Washington Post gossip columnist Amy Argetsinger for a segment that will air Sunday morning at 10 ET on "Reliable."
Why would Levi Johnston, having just split up with the woman whose baby he fathered, seek out the TV spotlight?
'State of the Union'
John King reinvents Sunday talk: More time, for more politics.
Sunday, 9 a.m. ET

"It's very intoxicating," says Norville, a former "Today" co-host, "when the producer from New York calls you up and says, we'd be happy to fly you and your mom and your sister to New York, we'll put you up in a nice hotel, we'll have fancy cars for you, maybe we can even get you tickets to go see the Statue of Liberty."
Argetsinger is conflicted about the media's role in the saga. "I feel a little bit hypocritical here," she says. "On the one hand, would I like to have an interview with Levi Johnston? Heck, yes. I would. I'd be delighted to talk with him."
Norville, meanwhile, says this wasn't high-quality journalism: "If you're going to do the interview, do a good interview. Please ask follow-up questions." On the "Early Show," when Johnston was asked about the governor's insistence that he hadn't lived with the family, "he said, 'Yes, I stayed there.' How many nights did you stay there? Did you stay there for weeks at a time? Did you stay one night on occasion? Did the governor know when you were staying there?"
My gut instinct is that journalists ought to leave these young people alone. Bristol Palin is famous only because her mother ran for vice president, and Levi is semi-famous because he happened to be the boyfriend who knocked up the daughter. Neither one, in other words, asked to be a public figure.
Don't Miss
But here's the rub. Gov. Palin trotted out Levi at the Republican convention and said he'd be marrying her daughter, all to present a nice family image for her debut as John McCain's running mate.
Once you do that, you can't hide the kids behind a curtain when things go sour.
And Bristol did an interview a few weeks back with Greta Van Susteren of Fox News in which she said Levi was playing an important role in the baby's life and did not mention the breakup. Under those circumstances, you can hardly blame Levi for wanting to tell his side of the story.
A more public figure who also hit the airwaves this week is Eliot Spitzer, or, as I still think of him, Client No. 9. The former New York governor, who resigned a year ago over his involvement with prostitutes, clearly wants to be a player on financial issues.
He's already written pieces for Slate and The Washington Post. But he couldn't keep ducking his sordid past forever. So he sat down with Matt Lauer.
Spitzer said he had only gone to high-priced call girls a few times, but Norville is critical of the "Today" interview. "He didn't talk about how many times when Matt asked him, how often did you frequent these kinds of people? He didn't say, even though prosecutors say as much as $80,000 was spent. You can't say it was just a few times. But Spitzer managed to do the interview and not really say anything."
A question for my colleagues: Should we care about Spitzer's views on AIG when he broke the law with Kristin, and humiliated his family in the process?
There are, without question, more pressing issues right now than hookers and one out-of-wedlock baby. But if national programs are going to devote precious airtime to this sort of thing, we ought to examine what they're doing and why.
E-mail to a friend

All About Sarah Palin • Bristol Palin • Levi Johnston