By Ruben Navarrette Jr.
Special to CNN





Editor's note: Ruben Navarrette Jr. is a member of the editorial board of the San Diego Union-Tribune and a nationally syndicated columnist. Read his column here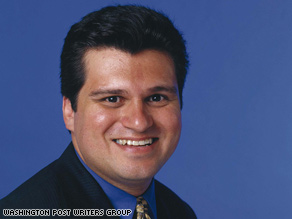 Ruben Navarrette says Obama is right to try to move forward on immigration reform this year.
SAN DIEGO, California (CNN) -- The Obama administration's stance on immigration reform is like a never-ending telenovela with multiple plot twists --sometimes more than one in the same news cycle.
One minute the administration is saying it's going to push for immigration reform this year; the next, the message is that it won't push that hard.
According to an article in Wednesday's New York Times, President Obama plans to begin addressing the country's immigration system this year, and those plans will include looking for a path for illegal immigrants to become legal.
The article quotes Cecilia Muñoz, deputy assistant to the president and director of intergovernmental affairs in the White House, as saying that Obama will frame the new push as "policy reform that controls immigration and makes it an orderly system."
As opponents of immigration reform never fail to point out, before joining the administration, Muñoz was vice president of the National Council of La Raza, an organization that has helped lead the fight for immigration reform in recent years. Other administration officials confirmed to the Times that Obama plans to speak publicly about the immigration issue in May, convene working groups made up of advocates and lawmakers over the summer and discuss possible legislation as early as this fall.
That's what I call an ambitious agenda. If things go off as planned, Obama will have kept a promise that he made to Latinos during the election, and more recently to the Congressional Hispanic Caucus -- that he'd tackle immigration reform in his first year.
But talking about it is one thing, and accomplishing it is another. So before Obama can go around the country to persuade Americans to do immigration reform this year, he should first go down the hall and convince his own vice president to get on board.
Don't Miss
And this is a vice president with a constituency. According to media reports, in a White House full of elites, Joe Biden is often a spokesman for blue-collar America. During a recent visit to Central America, he noted that working-class Americans want no part of immigration reform in the midst of an economic crisis.
"It's difficult to tell a constituency -- while unemployment is rising, they're losing their jobs and their homes -- that what we should do is in fact legalize [illegal immigrants] and stop all deportation," Biden said.
Sounds like Biden could be a tough sell. Here, I'll help. This is what Obama should tell his No. 2:
"Joe, there's truth to what you say. This is a tough sell, because some working-class Americans worry that illegal immigrants -- once legalized -- would compete with them for jobs.
"But there's also untruth to it. For one thing, illegal immigrants are already here and already competing for jobs. And, according to immigration restrictionists, they already get most low-skilled jobs anyway because they'll work for lower pay. But wait. That's because these workers are in the country illegally and employers exploit that fact to keep wages low. Ergo, in order to help U.S. workers, we need to get the illegal immigrants legal and force employers to pay all workers higher wages and stop playing one group of workers off another.
"Besides, you know as well as I do that the reason many Americans resist comprehensive immigration reform has nothing to do with the economy. They fought it in 2005 and 2007 when you and I and the rest of our Senate colleagues botched the chance to do immigration reform, and the economy was strong then.
"It's the culture, stupid. People freak out about having to press 'one for English' and the nativist fringe even thinks the country is being 'colonized' by Latinos. Much of this is about changing demographics, and the fear that many Americans have that, 30 years from now, whites will be the minority. We can't give in to that kind of subtle racism.
"And we can't wait, either. We have to break ground on immigration reform this year because, while we were elected for four-year terms, the sad reality is that we only get one good year. After that, it's time for Congress to worry about re-election, and so they won't go anywhere near a combustible issue like this one.
"As for you and me, there are those who say that issues like this cost votes. Well, if we're only going to have one term, let's make it a great one. And you don't get to greatness by avoiding the tough fights. You meet them head-on. And that's what we're going to do with immigration reform this year."
Obama has plenty of good arguments he can make to support moving quickly on comprehensive immigration reform. And if the reports are true, he deserves credit for rebooting the debate.
Still, the administration may not have shifted its stance at all. CNN reported late Thursday that the White House is not pushing to pass immigration reform this year. White House spokesperson Nick Shapiro was quoted as saying, "the president has consistently said that he wants to start the discussion later this year because our immigration system is broken...but the economy comes first."
The telenovela continues.
The opinions expressed in this commentary are solely those of Ruben Navarrette.
E-mail to a friend

All About Immigration • Barack Obama • Joseph Biden