By Ed Rollins
CNN Contributor






Editor's note: Ed Rollins, a senior political contributor for CNN, was political director for President Ronald Reagan and chairman of the National Republican Congressional Committee.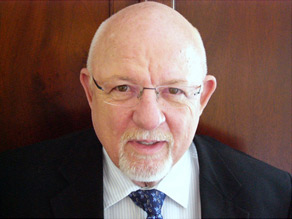 Ed Rollins notes that the world likes President Obama, but says the test is whether he will be respected.
NEW YORK (CNN) -- President Obama has returned from his first trip abroad with praise ringing in his ears from the media elite and barely a word of protest from the Republican opposition.
It truly was an extraordinary introduction on the world stage for our celebrity president, and his only rival for attention was the first lady.
He is a true talent and performs with the best of them. You can like the man and disagree with his policies, but you're a fool if you underestimate him. The headlines said it all -- from California's Sacramento Bee: "President's overseas debut a love feast!" The Washington Post: "Obama portrays another side of the U.S." The Fort Wayne Journal: "Obama rallies troops in Baghdad."
But in spite of the rave reviews and talk of a brand new relationship with the world, it was also a week of reality. Great leaders are always looking at the past and learning from those who go before them. As William Shakespeare said: What is past is prologue.
The following quote, which could be written today, is from the past:
"The president continues to be highly regarded. By solid majorities of 65 percent or more, those surveyed said he has a vision for the country's future, has brought dignity back to the White House and is a strong leader willing to make hard decisions," reported a CNN/Gallup Poll.
The time was the end of 2003 and the president was the now despised-by-many George W. Bush after he visited Iraq at Thanksgiving for the first time.
So, the next time you hear the pundits chattering about the president's approval ratings on cable television, remember Bush's approval rating remained above 80 percent for nearly six months after 9/11 and above 70 percent for 10 months after that. He remained popular with a 63 percent approval rating at the time of the 2002 elections, helping Republicans to achieve rare congressional seat gains in a midterm election year.
As the second president to go stealthily into Iraq to praise our troops, President Obama warned our newest ally, the Iraqi government, that the ball was now in their court and that we are getting out of there on schedule.
Don't Miss
I thought this was a wonderful way to end the trip as commander-in-chief, thanking our brave men and women who have given so much. But it did make me think of the immediate past president, who was equally praised on his first visit to Iraq. And on his last visit, an Iraqi journalist threw shoes at his head and was cheered on by his countrymen.
Even though President Obama spoke to the G-20 leaders as friends, addressed them more humbly than his predecessor and apologized for past perceived slights, the Europeans, especially France and Germany, weren't going to follow the United States in supporting an expanded stimulus program. They weren't going to follow us into Afghanistan, either, with their combat troops.
Even before the G-20 began, our new banker, China, expressed doubts about all its loans to us. Chinese officials stated, at a most inopportune time, that the world may need to find a new reserve currency rather than the U.S. dollar. We hope they will loan us the $100 billion we committed to the International Monetary Fund as a result of this meeting, money that we don't have and will have to borrow.
At almost the same time the president was advocating his vision of a world without nuclear arms and arguing that it is an achievable goal, reality came forth again. The North Koreans, who repeatedly dismissed as idle threats U.S. and U.N. warnings regarding their attempts at obtaining nuclear weapons and the systems to deliver them, on Saturday fired a rocket over Japan on its way to either space or Alaska.
Even though the alleged satellite didn't make it into orbit, the ripples it created went way beyond the Pacific Ocean where it crash-landed. Even our beloved governor of Alaska warned us that the North Koreans are coming, the North Koreans are coming.
The two old superpowers, China and Russia, wanted immediate sit-down summits later in the year to take the measure of the man. President Obama's reward for agreeing to the meetings was that both countries did everything possible to make sure the U.N. Security Council did nothing to condemn North Korea for its rocket blast. Beware of leaders calling you "comrade" on the first date.
The president's visit to Turkey, a key ally, was also historic. The first American president of color and Muslim heritage made great mileage with our important ally when he said:
"The United States has been enriched by Muslim Americans. Many other Americans have Muslims in their family or have lived in a Muslim-majority country. I know, because I am one of them." To the billion-plus Muslims in the world, those words had to be heartfelt and a welcome acknowledgement.
As an American, I am proud when our president does well overseas. Being humble worked much better than being cocky. But in order to lead, you must be tough. Being liked is important. Being respected will be the test. The president had a great opening round, but there are many more rounds to fight.
So welcome home, Mr. President. The financial mess is still here. Enjoy the Easter Egg roll on the South Lawn this weekend. And know that the decisions you make in the coming weeks and months will be all about those kids playing on your back lawn -- and every other child in America.
The opinions expressed in this commentary are solely those of Ed Rollins.
E-mail to a friend

All About Barack Obama • China • North Korea