WASHINGTON (CNN) -- The federal government is establishing a new system for updating medical records of servicemen and women during and after their military careers, President Obama announced Thursday.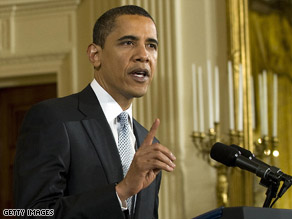 President Obama made veterans' affairs a big priority in the 2008 campaign and continues to do so.
The joint virtual lifetime electronic record will, among other things, help ensure a streamlined transition of health care records between the Pentagon and the Veterans Administration.
It will provide "a framework to ensure that all health care providers have all the information they need to deliver high-quality health care while reducing medical errors," the White House said in a background statement.
"When a member of the armed forces separates from the military, he or she will no longer have to walk paperwork from a [Defense Department] duty station to a local VA health center. Their electronic records will transition along with them and remain with them forever," Obama said in remarks delivered near the White House.
The system will "cut through red tape" and allow new veterans to start receiving their benefits more quickly, he promised.
During the announcement, Obama was joined by Defense Secretary Robert Gates and Veterans Affairs Secretary Eric Shinseki.
"We welcome this news. ... This is a huge day for veterans and troops," Paul Rieckhoff, head of Iraq and Afghanistan Veterans of America, told CNN.
"This is a good way for [Obama] to come back from Iraq and make a powerful statement."
The White House recently proposed a significant budget increase for the Veterans Administration, including an 11 percent hike in fiscal year 2010.
In March, however, the administration abandoned a controversial plan to charge private insurers for treatment of veterans' service-connected ailments.
Veterans' representatives and members of Congress angrily opposed the proposal, which White House spokesman Robert Gibbs said was never finalized.
E-mail to a friend

All About Barack Obama • Veterans' Affairs