WASHINGTON (CNN) -- The federal government will speed up its timetable for the purchase of roughly 17,600 fuel-efficient vehicles in an effort to help struggling domestic automakers, the White House announced Thursday.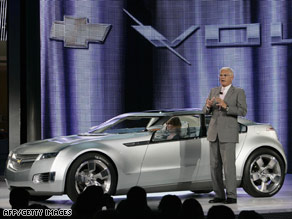 President Obama says his administration will spend $285 million on hybrid vehicles from GM, Ford and Chrysler.
The government will spend $285 million in stimulus funds to purchase the cars before June 1. The accelerated purchase order has been placed exclusively with General Motors, Chrysler and Ford.
"As a part of our commitment to the American auto industry, I charged my administration with using Recovery Act funds to purchase a new fleet of fuel-efficient government vehicles to increase demand for our American auto companies and stimulate the economy," President Obama said in a written statement.
The accelerated purchase "is only a first step, but I will continue to ensure that we are working to support the American auto industry during this difficult period of restructuring."
By April 15, 2,500 hybrid sedans are expected to be ordered, the largest one-time purchase of hybrid vehicles for the federal government's automotive fleet in history, according to the White House.
Don't Miss
Every vehicle included in the overall purchase must have a more fuel-efficient rating than the one it replaces. The goal is a boost in fuel efficiency of at least 10 percent compared with the group of automobiles being replaced.
The new cars should cut the federal government's total gasoline consumption by 1.3 million gallons annually, the White House said.
E-mail to a friend

All About Hybrid Vehicles • Barack Obama • General Motors Corporation • Chrysler Group • Ford Motor Company