From Jessica Yellin and Lauren Kornreich
CNN





(CNN) -- Sheila Bair, chairman of the Federal Deposit Insurance Corporation, is one of the few women in the generals' tent of the nation's economic war.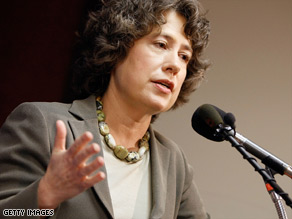 FDIC chairman Sheila Bair is regularly published in Highlights magazine and has written two books.
Forbes magazine calls her the second most powerful woman in the world, after German Chancellor Angela Merkel but well ahead of both Oprah Winfrey and Hillary Clinton.
"Watch out Angela!" laughed a good natured Bair in an interview with CNN.
By day Bair keeps the nations banks stable. But by night she wears a second hat -- writing children's stories about saving and investing money. She's regularly published in the children's magazine Highlights and has written two books: "Isabel's Car Wash" and "Rock, Brock and the Savings Shock."

Watch how Bair manages her two careers »
Asked her how she'd explain the current crisis to kids, Bair said the key lesson for kids is really "the saving rate plummeted, and it's now building itself back up where we're relearning lessons from our Depression Era parents and grandparents that you do need to save for a rainy day. And that credit is something you use when you need to, but you do it thoughtfully."
It's a lesson she's taught her own kids -- now ages 9 and 15 -- who had to put part of their allowance into a piggy bank that was transferred to a savings account once it added up. She wanted them to "learn to save early."
These days Bair's power is growing, as she plays an increasingly central role in the administration's financial rescue plans.
Her once staid agency is now in the middle of the Obama administration's gambit to bail out the banks and sell troubled assets. The latest move is agreeing to guarantee some of the Treasury Department's toxic asset sales. Critics say she's putting the agency's solvency and taxpayer dollars at risk.
Don't Miss
Bair says "the challenge of the program is finding that magic price where banks would be willing to sell and buyers would be willing to buy."
But she believes the plan will work, explaining, "the prices you're seeing in the market right now are far below what the actual cash flow is being produced by these assets. So we think by providing some credit ... we can get the price up a little better and get to the point where you have a more realistic market value and banks would actually be willing to sell."
Banks are her specialty. As the chairman of the FDIC, her first responsibility is to protect personal savings. The FDIC, an independent agency of the federal government, insures individual bank deposits up to $250,000. "Nobody's ever lost a penny of an insured deposit," Bair said. "So people know that, they understand that, and it's helped stabilize deposits, keep them in the bank, and the banks have been able to keep lending."
When a bank shuts down, her agency finds another bank to buy it and reopen it within days. For depositors, it's seamless. This year, the FDIC has overseen the "transition" of 21 banks.
In the White House and on Capitol Hill there's talk of expanding her official portfolio. President Obama says that since the FDIC already knows how to unwind banks, it would make sense to give the FDIC new powers to take over insolvent financial firms like AIG, which has received billions in bailout dollars. The new structure would allow the firms to avoid bankruptcy and allow the administration to get out of the business of managing these firms -- and facing political headaches such as bonus scandals.
Bair is in favor of the idea. "We certainly don't want to do anything to dilute our brand," she said during a speech to the American Bankers Association conference this month. "It can be addressed through the way the authority is structured, perhaps through a separate entity that would be under the FDIC board, but legally separate and separately branded."
If Bair were in charge, you can be sure cash bonuses wouldn't be going out the door of insolvent companies. "I think bonuses, especially cash bonuses, you pay when you're profitable," said Bair.
She draws a distinction between annual cash bonuses and stock options, saying firms that want to retain top talent can reward them with "warrants or stock that generally pay once the company returns to profitability over a period of time."
First appointed by President George W. Bush, Bair has been an outspoken advocate of more aggressive oversight. Last year, she urged the Bush administration to refinance bad mortgages. She said she is frustrated that they didn't listen.
"Looking back, it's just amazing how bad it got and every check and balance in the system we thought we had in place didn't really function as well as it should." Bair said this crisis occurred because some borrowers got into teaser rate mortgages they knew they couldn't afford, but that others simply didn't understand the process. Bair sounded a human note, saying, "I do think you need to have compassion for some of these borrowers."
Now she's making headlines calling on Congress to break up big banks. She encourages more regulation to make sure banks don't get so large that their failure would have a domino effect on existing healthy financial institutions.
"We need to simply end 'too big to fail,'" Bair said in her recent speech to the American Bankers Association.
But some traditionalists say she's getting away from the core role of the FDIC -- protecting savings. Bair says she understands Americans' anger. "I do consider myself a populist. I grew up in southeast Kansas in a rural community, I grew up, went to public schools ... I know what it's like to work and raise a family, and worry about whether you can make the mortgage payment."
"Extending credit to consumers and businesses to support healthy economic growth, we lost our way a bit on that," Bair said. "Maybe that's populist, but I do think the financial services industry is there to support the real economy and I think we lost a bit of touch on that."
And in the future?
"I think financial institutions will be smaller and better managed from our perspective and back to the bread and butter of lending and extending credit and getting away from these highly complex highly leveraged instruments that in retrospect I don't think helped anybody."
Bair also said it would be nice to have more female peers. She believes women's perspectives could be helpful. "I think we all have different backgrounds, different ways of viewing things, and I think that strengthens us in our decision making."

Now, the Obama administration is pushing the Public-Private Investment Program, which would authorize the government to work with private investors to buy up banks' toxic assets to encourage them to start lending money again. It's a complex program. So will she write a children's book on that?
"That would be a challenge!" she exclaimed. Instead, she said "I've been thinking about writing a story for kids trying to explain in simple terms how we got into this situation and to kind of reassure them that yes we have some problems but we're working our way out of them."
E-mail to a friend

All About Federal Deposit Insurance Corporation • Sheila Bair