By Deirdre Walsh
CNN Congressional Producer





WASHINGTON (CNN) -- Illinois Democratic Rep. Jesse Jackson Jr. said Wednesday he is cooperating with a preliminary congressional ethics investigation into whether he was involved in possibly improper efforts to secure President Obama's vacant Senate seat.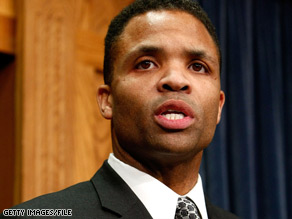 Jesse Jackson Jr. says he has done nothing wrong and rejects "pay-to-play politics."
In a statement released by his office after a published report in the Chicago Sun-Times, Jackson said he was "eager to answer any questions and provide any information to the OCE [Office of Congressional Ethics] about my actions related to last year's vacant Senate seat."
He said he was notified last week about the investigation.
Federal prosecutors announced in December they were investigating then-Illinois Gov. Rod Blagojevich's alleged efforts to secure something in return for his appointment to the vacant Senate seat.
Jackson was identified in the criminal complaint as someone Blagojevich discussed approaching, but prosecutors did not allege criminal action by Jackson.
Jackson maintained in his statement he did nothing inappropriate.
"As I said when the Blagojevich scandal first broke back in December, I have done nothing wrong and reject pay-to-play politics," he said. "I'm confident that this new ethics office -- which I voted in favor of creating -- will be able to conduct a fair and expeditious review and dismiss this matter."
Leo Wise, staff director and chief counsel to the Office of Congressional Ethics, said he could not comment on the matter or confirm or deny any investigation, citing the panel's confidentiality policy.
Don't Miss
The Office of Congressional Ethics was created by the House of Representatives in March 2008 to screen cases of potential improper conduct by members of the House. A board of six members, who are outside experts, meets monthly to review issues and votes on whether to recommend that the House Committee on Standards of Official Conduct launch a formal investigation.
Former CIA Director Porter Goss, a former Republican congressman from Florida, and former Colorado Rep. Dave Skaggs, a Democrat, co-chair the panel. Even if the Office of Congressional Ethics recommends the committee start an investigation, that committee, made up of House members, can decide on its own whether to take up the matter.
A grand jury last week indicted Blagojevich and some of his closest aides on 16 counts, including racketeering, conspiracy, wire fraud and making false statements to investigators, among other charges. Blagojevich was impeached and removed from office by the Illinois Legislature in January.
E-mail to a friend

All About Jesse Jackson Jr. • Rod Blagojevich