By Gloria Borger
CNN Senior Political Analyst






WASHINGTON (CNN) -- During the presidential campaign, vice presidential candidate Joe Biden loved to remind us all of his working-class roots -- born in Scranton, Pennsylvania, son of a car dealership manager.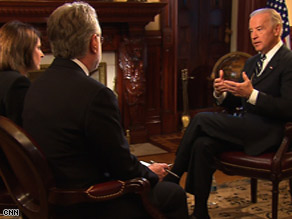 CNN's Gloria Borger interviews Vice President Joe Biden on Tuesday.
As the vice president walked into the ornate Secretary of War suite in the Old Executive Office Building at the White House to sit down for his interview with me and "The Situation Room" anchor Wolf Blitzer, it seemed a world away.
It's not as if Biden is unaccustomed to a lot of fuss. He was, after all, a very senior member of the Senate who led the Senate Foreign Relations Committee. But now the entourage has grown: the Secret Service, the senior staff, the ornate and well-positioned offices close to the president.
But when asked what surprised him most about the job, he surprised me with his singular answer: The Secret Service.
He's been around Washington, he told us, "but I never realized I wouldn't be able to drive an automobile."

Watch the full interview »
He still takes the train back to Delaware, he said.
"I get out of the bubble ... But there's a lot of Secret Service that rides with me. I insist when I'm home I still go to the grocery store. I still do the things I used to do, but it's a lot more cumbersome. That's the part that surprised me."
The part that clearly did not surprise him is the rest of the job, which he clearly relishes. And he was not shy to fire a salvo back at former Vice President Dick Cheney, who told CNN's John King we are less safe because of the policies of the Obama administration.
Biden wasted no time in calling Cheney "dead wrong," saying that the last administration left us in a "weaker posture than we've been any time since World War II: less regarded in the world, stretched more thinly than we ever have been in the past, two wars underway, virtually no respect in certain parts of the world."
Take that, Dick Cheney.
Oh, and one more thing, adds the vice president:
"We are more safe. We are more secure. Our interests are more secure, not just at home, but around the world. We are rebuilding America's ability to lead."

Watch more of Biden's response »
Then there's this: Biden made it clear he thinks Cheney was actually a divisive force within the Bush administration, a separate power center that promoted its own agenda rather than promoting the interests of the president.
"Look, everybody talks about how powerful Cheney was," the vice president told us. "His power weakened America, in my view. Here's what I mean by that: There was a divided government. There was Cheney and his own sort of separate national security agency, and then there was the National Security Agency."
In other words, Biden believes he works for Obama.
Even when there are internal disagreements, as happened recently during discussions about whether to send an additional 4,000 troops into Afghanistan.
Biden was the man of caution, worrying the United States had not yet clearly identified goals in Afghanistan. And when asked today, he said, "Here's what I was concerned about, and we've settled it. And that is that we have a clear, coherent objective."
That is to take on al Qaeda, the vice president continued.

Clearly, this is a break from the past: We are not about democratizing the Middle East.
After all, they did promise change.
E-mail to a friend

All About Joseph Biden