By John King
CNN Chief National Correspondent





Editor's note: John King, CNN's chief national correspondent and "State of the Union" host, examines the news made in Sunday talk and offers up this Monday morning crib sheet on what to watch this week in politics. If you'd like to receive a sneak peek of this story in your inbox every Sunday, you can sign up for the "Political Ticker newsletter" at http://www.cnn.com/profile/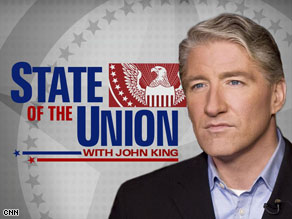 CNN's John King reviews the political scene on Sunday and what you can expect in the week ahead.
(CNN) -- It was another eventful Sunday, beginning with an early-morning wake-up call for the traveling President Obama.
As if his first overseas trip wasn't busy enough already, North Korea reminded Obama that presidents don't always get to pick their challenges.
It added to the drama of an already big day. In a speech in Prague, Czech Republic, scripted to outline an ambitious goal to rid the world of nuclear weapons, the president added condemnation of North Korea's rocket launch and a call for quick international action.
Some highlights:
• "Just this morning, we were reminded again of why we need a new and more rigorous approach to address this threat. North Korea broke the rules once again by testing a rocket that could be used for long-range missiles. This provocation underscores the need for action -- not just this afternoon at the U.N. Security Council, but in our determination to prevent the spread of these weapons." -- President Obama speaking Sunday in Prague

Watch the President address the rocket launch »
• "Rules must be binding. Violations must be punished. Words must mean something. This world must stand together to prevent the spread of these weapons. Now is the time for a strong international response." -- President Obama
• "When I was born, the world was divided, and our nations were faced with very different circumstances. Few people would have predicted that someone like me would one day become an American president. Few people would have predicted that an American president would one day be permitted to speak to an audience like this in Prague. And few would have imagined that the Czech Republic would become a free nation, a member of NATO and a leader of a united Europe. Those ideas would have been dismissed as dreams." -- President Obama
Top Obama adviser David Axelrod said the president is well aware North Korea and Iran are unlikely to embrace his nonproliferation goals. That's precisely, he said, why the speech and the proposals are so important.
Axelrod also delivered a pointed response to our interview with former Vice President Dick Cheney, in which Cheney said Obama administration policies "were making Americans less safe."
'State of the Union'
John King reinvents Sunday talk: More time, for more politics.
Sunday, 9 a.m. ET

• "We have to mobilize the world to be part of this process. Because this is really -- this is one of the great threats, nuclear weapon grade nuclear material falling into the hands of those who could fashion it into a weapon. What we want to do is create a situation where nations that want nuclear materials for peaceful purposes for powering their countries can get it from an international bank. But that materiel is secured so it doesn't fall in the hands of rogue states and extremist groups." -- David Axelrod, Senior White House adviser, on CNN's "State of the Union"
• "I think it was an unfortunate statement. Let me say in contrast how much we appreciate the way President Bush has behaved. He was incredibly cooperative during the transition and when he left, he said, 'I wish you guys the best. I'm rooting for you.' I believe that to be the case. He has behaved like a statesman and, as I've said before, here and elsewhere, I just don't think the memo got passed down to the vice president." -- David Axelrod

Watch Axelrod respond to Cheney's comments »
Keeping an eye on North Korea
Reclusive North Korean leader Kim Jong Il isn't always easy to explain. The former head of the U.S. Missile Defense Agency says just because the payload didn't reach its orbit doesn't make the launch a total failure.
• "They had successful first staging and able to control the rocket through staging. That is a significant step forward for any missile program because oftentimes the missiles become unstable as they go through the staging events. The fact that they did not get apparent separation of the payload from the second or third stage means that they have more work to do there in terms of being able to achieve that. The bottom line is they are continuing to advance in their ranges." -- Retired Lt. Gen. Henry Obering on CNN's "State of the Union"
• "He wants to solidify his position of his own country following a stroke and he wants to tell his military it's a military-first economy because, in fact, they get money, funds from the sale of this missile technology. And he wants to say to the Obama administration: 'Pay attention to me, I'm serious.' " -- Former Ambassador Wendy Sherman on CNN's "State of the Union"
The Security Council debate is the first big test for Susan Rice, the U.S. ambassador to the U.N., and she explained the stakes in an ABC interview:
• "The United States believes ... the most appropriate response would be the United Nations Security Council. ... The United States' view is this is serious, it's a violation and it merits an appropriate and strong United Nations response." -- Susan Rice, U.S. ambassador to the U.N., on ABC's "This Week"
• "We're working very closely with China. China has the same goal that we do, which is a denuclearized Korean peninsula. China also is very approximate on the border with North Korea and shares our desire not to see this situation escalate and to ensure that we can achieve the long-term goal, which is denuclearization of the Korean peninsula through the six-party talk process." -- Susan Rice
• "We view North Korea as a proliferation threat. Its actions today underscore our concern about its development of not only nuclear weapons capability but the capability to deliver. That's what we're most concerned about preventing and preventing North Korea from sharing that technology." -- Susan Rice
And on Fox, former House Speaker Newt Gingrich lamented the failure of past diplomacy when it comes to North Korea.
• "They have been building nuclear weapons and building better missiles while we keep talking. One morning, just like 9/11, there's going to be a disaster and people are going to say 'Gosh, why didn't anyone think of that.' " -- Former House Speaker Newt Gingrich on "Fox News Sunday"
Tough times in Detroit
It was an interesting Sunday on the home front as well.
In a candid conversation, the new General Motors CEO, Fritz Henderson, talked of the tough days ahead negotiating more concessions from unions and bondholders. He also said President Obama's strong comments give him leverage with the United Auto Workers. He also talked about politics and his first car.
• "What President Obama was saying and certainly what the task force said, is what you've outlined is you haven't gone far enough. You haven't gone fast enough, it's not deep enough, you've got to go further because the environment's tougher. There are a lot of things that are tough and you can't really rule anything out. It was very clear, we understand the message and so we're going to sit down with our people and get the job done." -- General Motors CEO Fritz Henderson on CNN's "State of the Union"
• "I always vote for who I think is the best person. And so, you know, I try as much as possible to get myself up to myself up to speed and I vote for who I think the best candidate is." -- Fritz Henderson
• "1969 Buck Skylark. I loved it because my dad bought it for me; it was used. I loved it. It had a 352 barrel, and I thought it was just fantastic." -- Fritz Henderson

Watch more of Henderson's comments »
And a week after the administration fired Henderson's predecessor, Treasury Secretary Tim Geithner said the changes forced at GM should send a clear message to banks taking government bailout money.
• "If in the future, banks need exceptional assistance in order to get through this, then we will make sure that assistance comes. Again, not just to protect taxpayers but to make sure this is the kind of restructuring necessary to make them stronger. And where that requires a change in the management of the board, we will do that." --Treasury Secretary Tim Geithner on CBS' "Face the Nation"
And it's worth listening to the little guy too, especially when the message is a little surprising. Consider these union auto workers, saying as much as they support President Obama, they think he went too far in firing their boss.

• "How many automobile makers are in Washington, you know? They're not doing a real good job with the banks either, so I'm a little skeptical." -- Mike O'Rourke, Spring Hill, Tennessee, United Auto Workers president, on CNN's "State of the Union"
• "I don't believe that the government should actually run the businesses. Yeah, we need help from them but to say that the president tells a company CEO that he has to leave, I just don't believe that should happen." -- Retired GM autoworker Brenda Carter on CNN's "State of the Union"

E-mail to a friend

All About Barack Obama • North Korea • Dick Cheney • Kim Jong-il • United Nations Security Council • Susan Rice • Newt Gingrich • General Motors Corporation • Timothy Geithner • Fritz Henderson