(CNN) -- Jack Welch "would bet on" a U.S. comeback in the automotive business if unions and other parties make appropriate concessions, the former General Electric chairman and CEO said on CNN's "State of the Union" on Sunday.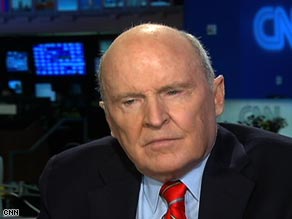 Former General Electric CEO Jack Welch isn't crazy about President Obama's policies but likes his leadership.
Welch also said he wasn't surprised by the government's role in the resignation of General Motors CEO Rick Wagoner, who said last week he stepped aside at the request of Obama administration officials. Welch said that because the government was "keeping the company alive" through billions of dollars in assistance, the government was "just acting like a board of directors" in seeking Wagoner's departure.
Welch also spoke with CNN's John King about capitalism going "off the rails" and President Obama's performance at the Group of 20 summit. The following is an edited version of the interview:
John King: Is that an appropriate role for the government of the United States, the White House, to be telling a corporate CEO of a private company, "You're gone?"
Jack Welch: Well, the government in this case, John, kept the company alive. All the players who went for the money knew the government was keeping the company alive and so ... the government is just acting like a board of directors would in a case like this, and they made a tough decision. But we all knew they were forming a car task force, an automotive task force. The task force went in and the task force made a decision. I don't think it's a shock to anyone that they did that.

Watch Jack Welch grade President Obama »
King: From the perspective of a guy who has been the CEO, imagine that you are the CEO of Ford. ... You have the president of the United States essentially saying publicly, "Look, we'll back up a GM warranty, don't worry if GM goes into bankruptcy." ... If this happens and they go into a controlled bankruptcy with the federal government support, has the government of the United States created an environment that is disadvantageous to Ford?
Welch: I think Ford is going to be able to offer the same benefits. Ford was not able to knock out their competitor, that's all that's saying. And they're going to have the same competitive playing field they've had all along. So I don't think it's a surprise to Ford. They happen to be in better shape at this moment. But I think it is what they expected.
King: Is it America?
Don't Miss
Welch: Well, America's in a little different spot now. Capitalism has gone off the rails, and government has had to step in. And once you allow that -- because you have to; you're not allowing it, you're begging for it -- one you get that help, you get all that comes with it, John.
King: If we have a conversation in three to five years, will there be a viable General Motors and Chrysler that are competitive in the world market?
Welch: John, I don't know the answer to that. I think that with the help we're giving him -- I've seen this new fellow [GM CEO Fritz Henderson] on television a couple of times. I don't know him; he seems determined to take action. Look, I don't know the answer, but I would bet on it. I bet America is going to come back in the automotive business if everybody makes concessions they have to make -- everybody.
King: Let's rate the president's trip overseas, and let's start with the G-20 summit, where he was trying to get international coordination when it comes to the global economy. Anything out of that meeting that you think will bring progress in the short term to the troubled economy?
Welch: No. But I think a lot of good things happened there. I think the [International Monetary Fund] funding was a good deal for the developing countries. And I think the idea of protectionism being knocked down was a big takeaway. I also think, on this trip, the president was remarkable. He didn't make one misstep. I thought his press conference yesterday in Strasbourg [France] was ... an incredible job. The idea of explaining American exceptionalism in the context of Europe was as masterful a speech as I've ever heard.
King: I was going back through your political contributions over the years, and when it comes to presidents, you're a Republican. You supported Mitt Romney and Rudy Giuliani back in the last campaign. You have high praise for this president. When you watch him on this first overseas trip, what's he doing right? And do you see anything he's doing wrong?
Welch: Well, look, there are a lot of policies I don't agree with. My wife and I are writing a column this weekend. And we end up giving the lead away by giving him an "A" in terms of leadership. That doesn't mean we like his policies, but we like the way he's expressing a vision, the way he has brought a team together. I think the way the economic team is working with egos subdued, I think the terrific job [Secretary of State Hillary Clinton] is doing with his support, that team is together. And so, he has done the vision thing, he's a great communicator, and he has got a team-building skill that is really working.

King: We have had four consecutive weeks of the Dow ... at least going in the right direction, closing above 8,000 this past week. However ... not since 1983 has the unemployment rate been up at 8.5 percent. Some economists think it might crack 10 percent. Help us, Jack Welch, understand: Which number should the American people follow? Is the market telling us we've hit bottom and we're coming back, or is the unemployment rate telling us still a lot of pain to come?
Welch: Historically, the market has in fact been a leading indicator, and the employment statistics a lagging indicator. I think we're going to see, tragic as it is, some more tough economic news on the employment front. And I don't disagree with those who think we can crack 10 [percent] over the next two or three quarters.

E-mail to a friend

All About Jack Welch • General Motors Corporation • Barack Obama • National Economy