By Barbara Starr
CNN Pentagon Correspondent





CNN Pentagon correspondent Barbara Starr and photojournalist Peter Morris are traveling to southern Afghanistan with Gen. James Conway, Commandant of the Marines.
ADDIS ABABA (CNN) -- When you are a CNN reporter out on the road, nothing is more important than the first task at hand every day -- securing the morning's first cup of coffee. After that, you can handle just about anything, from the war zone to the flood zone.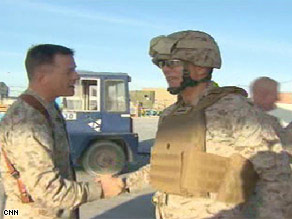 Gen. James Conway, right, talks to a Marine in Kandahar, Afghanistan.
No, I am not being silly. Any soldier will tell you the same thing. Morning coffee first.
And nowhere is coffee a more serious business than in Ethiopia. (Did I mention? I am in Ethiopia on assignment.)
And after flying all night, I am up way too early because of jet lag. But yes, I have found a big, steaming, fantastic cup of Ethiopian coffee, so the day can begin now.
OK, now for the serious part. CNN cameraman Peter Morris and I left Andrews Air Force Base on the night of March 31 with Commandant of the Marine Corps Gen. James Conway and a small group of Marines.
Our main destination is southern Afghanistan where thousands of Marines are headed in the coming weeks to carry out President Obama's war strategy of securing the country.
But first we have a full day here in Ethiopia, where we will have a look at some of the humanitarian assistance operations the U.S. military has done here in the poverty-stricken Horn of Africa.
Even here, the reach of Osama bin Laden is felt. He has made recent statements calling for the overthrow of the government in Somalia, which is right next door. There is plenty of worry al Qaeda may find a new safe haven here in the Horn of Africa.
Gen. Conway is just one of many U.S. officials who now comes here to check on things and tell governments that the United States is watching the situation carefully.
OK, one last sip of coffee ... now I've got to run. The reporting day is about to begin.
Back now for update:
We went to the Abadir Primary School in Ethiopia's teeming capital city of Addis Ababa. In the coming days we will bring you the story of how U.S. troops helped rebuild this school so children could attend class.
The story will warm your heart, especially when you see these tiny African children's reaction to just the mention of President Obama's name.
E-mail to a friend

All About Afghanistan • Ethiopia