By Bill Schneider
CNN Senior Political Analyst






WASHINGTON (CNN) -- Have Americans been prepared for Friday's bad news about the economy? It looks like they have.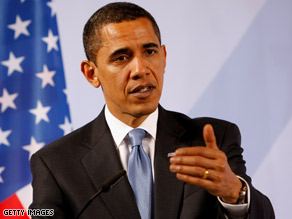 President Obama talks to media in Baden Baden, Germany, Friday.
They were warned even before President Obama took office.
"It is altogether likely that things may get worse before they get better," Obama said on January 8.
They have.
"Our jobs report came out today, and it showed that we had lost 663,000 jobs just this month, which has pushed our unemployment rate to 8.5 percent -- the highest in 25 years," the president said Friday at a news conference in Germany, a few hours after the Labor Department reported the March unemployment report.
Will Americans blame Obama? Not likely.
Overwhelming majorities say they blame banks and financial institutions, large corporations, consumers for taking on too much debt and the Bush administration.
Typically, unemployment continues to climb for months after a recession is technically over.
Remember how important "the economy, stupid" was in 1992? The recession actually ended in March 1991, but unemployment continued to rise through the middle of 1992.
Don't Miss
"I don't want people to think that in one or two months, suddenly we're going to see net job increases," the president warned last month.

Watch Obama discuss his economic recovery plan »
It's a race between optimism and despair. Right now, optimism is gaining.
In January, by more than 10-1, Americans said the economy was getting worse, according to an ABC-Washington Post poll (62 percent better, 6 percent worse).
Things were still bad in February. But by the middle of March, the number who thought things were getting better reached double digits, while less than a majority believed the economy was getting worse.
Now, optimism is up to 27 percent, although pessimists still have the edge (36 percent say things are getting worse) according to the poll.
We know what's creating the despair. But what's driving the optimism? Probably politics as much as anything.
The Washington Post reports that the sharp rise in economic optimism has occurred among Democrats and independents. Republicans see no reason for hope.
Could the process reverse and the bad economic news start to undermine Obama's political standing? Yes, if we keep getting news, month after month, like Friday's jobless figures.

Eventually the bad news will take a toll on the president's job approval rating. And when that number goes down, the president loses political clout.
That hasn't happened yet. Which may be why President Obama is trying to do so much so quickly.
E-mail to a friend

All About Barack Obama