By Jonathan Mann
CNN





(CNN) -- U.S. President Barack Obama met with his NATO allies in Strasbourg, France on Friday to talk about his plans for the war in Afghanistan, his "front line in the war on terror."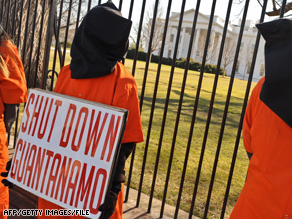 Protesters outside the White House in February have a simple idea for the controversial prison.
But the U.S. war on terror has some dark secrets and Obama hasn't really wanted to talk about them.
In Spain, a crusading judge named Baltasar Garzon is reviewing the case of several men who say they were tortured at the U.S. prison in Guantanamo Bay, Cuba.
In Washington, Senator Patrick Leahy has been asking similar questions that people around the world want answered:
Did the U.S. really torture prisoners, did it secretly transfer some to other countries specifically to be tortured and did senior officials authorize it?
Leahy says: "We can't turn the page unless we first read the page."
There are ample grounds to believe crimes were committed.
Individual prisoners have described being tortured in U.S. custody or being dispatched to other nations with the same terrible result.
An investigation by the International Committee of the Red Cross also reported evidence of it.
While he was in office, George W. Bush said flatly "the United States does not torture."
But the Bush administration defined 'torture' so narrowly that its use of the word has been contested as well.
The effort to find out just what happened has been moving slowly, both inside and outside the United States.
The Obama administration hasn't encouraged it.
Obama said recently that "generally speaking, I'm more interested in looking forward than looking backwards."
That's easy to understand. Millions of Americans are grateful to America's ex-president and his aides, as well as U.S. soldiers and spies, for keeping the country safe after 9/11.
Any investigations or potential prosecutions could set off a national debate complicating everything else Obama wants to accomplish.
But the U.S. has signed international treaties on torture and war crimes, suggesting it's legally obligated to prosecute any cases that come to light.
Countries in Europe, Africa and the Americas have found a way to face their secret crimes.
The United States has to decide if it wants to take its own turn.
E-mail to a friend