By Ruben Navarrette Jr.
Special to CNN





Editor's note: Ruben Navarrette Jr. is a member of the editorial board of the San Diego Union-Tribune and a nationally syndicated columnist. Read his column here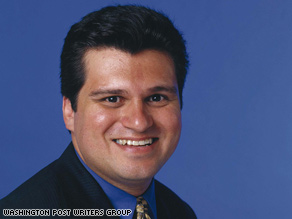 Ruben Navarrette says America's policy on illegal immigrants is full of mixed messages.
SAN DIEGO, California (CNN) -- Friday's new unemployment figures will underscore the fact that millions of Americans are either out of work or afraid they could end up that way.
Those who live in or near the town of Bellingham, Washington, the site of the Obama administration's first (and immigrant activists hope, last) workplace raid, can't be pleased to find out that they now have to compete with a couple dozen additional laborers who they assumed had been taken out of the country.
The workers were among the 28 suspected illegal immigrants who were rounded up in what looked like a standard operation by Immigration and Customs Enforcement (ICE) in a February 24 raid on the Yamato Engine Specialists, an auto parts plant in Bellingham.
This week, the Department of Homeland Security, the agency that oversees ICE, released from custody most of the 28 illegal immigrants it had apprehended. Homeland Security Secretary Janet Napolitano has ordered a review of the raid. One person who was rounded up had already been deported.
No worries. He'll probably be back before Cinco de Mayo.
Don't Miss
As I travel the country, I hear from Americans who naively think of the deportation process as permanent banishment. Right. Those of us who live on the U.S.-Mexican border know the ease with which those who are deported can return, provided they can come up with the smuggler's fee for the one-way return trip back into the United States. The going rate is about $3,000.
And the more we crack down on the border with the agents and fencing and gadgets that conservatives love so much, the higher the smugglers raise their prices. Which, ironically, only makes these criminal rings more powerful and harder to combat.
The Bellingham migrants were also given temporary legal work permits in exchange for cooperation in an ongoing investigation of the company that hired them.
And I bet you thought these people weren't supposed to be working in the United States. So what's the United States government doing putting them to work? Well, there is one other thing. The workers were also probably given -- surprise -- an Individual Tax Identification Number (ITIN) so they can pay taxes. It doesn't offend Uncle Sam's sensibilities to take tax money from the previously undocumented on April 15.
The Employment Authorization Documents are valid for the duration of the criminal case against Yamato, according to the Homeland Security Department. Which, given the speed with which these cases progress through our court system, could be years.
Yamato officials insist they do not hire illegal workers.
"It has been and continues to be Yamato's policy to hire people only if they meet the legal requirements for employment," the company said this week in a press release. "Yamato requires all prospective employees to present government-required documents to prove that they are entitled to work in the U.S." The company said that it is "confident that the government's investigation will show that Yamato has complied fully with the law."
When the case is finally closed, no matter what the outcome, the workers are supposed to be deported -- unless, of course, they get married and have kids and put down roots in this country, which could give them a legal claim to stay put. Or they could just skip town before the clock runs out.
But why bother? Does anyone think they're afraid of U.S. immigration authorities at this point?
In one sense, I feel sorry for illegal immigrants. They make the decision to come here, even if it means breaking the law. I won't defend that. But still, we play with their lives, and we play with their heads. They must think Americans are loco. We confuse them with mixed messages. It starts with the two signs at the border: "Keep out" and "Help Wanted." We all but beg them to work for us, and then too often we abuse and exploit them as if we rue the day they punched in.
And now there's the bedlam in Bellingham. Immigration authorities arrest a bunch of folks suspected of being in the country illegally and working without proper documents. Then, those same authorities let them go, let them stay in the country, and give them documents to work. Such deals didn't happen in the Bush administration, which rarely prosecuted employers for hiring illegal immigrants.
That kind of deal-making is insane. And I say this as someone who rejects the ridiculously simplistic solutions that conservatives scribble on cocktail napkins, and someone who still supports comprehensive immigration reform that includes a conditional path to legal status for some of the 12 million illegal immigrants living in the United States.
We need to change the law. But, until that happens, we need to enforce the laws we have. After all, if we don't respect what's written on the books, why bother to go through the motions of rewriting it?
The opinions expressed in this commentary are solely those of Ruben Navarrette.
E-mail to a friend

All About Immigration • Mexico • Border Control and Customs