By Charley Keyes
CNN Senior Producer





WASHINGTON (CNN) -- Republican critics of Chris Hill, the veteran diplomat tapped to be U.S. ambassador to Iraq, delayed his confirmation for at least another two weeks.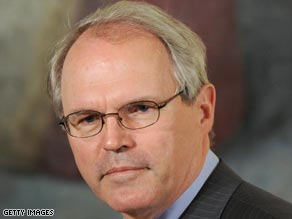 Chris Hill is President Obama's nominee to be ambassador to Iraq.
The Senate won't take up the Hill nomination until after it returns from the Easter recess on April 20.
Sen. Sam Brownback, R-Kansas, voiced his objection to the nomination and blocked its consideration Thursday. Under Senate rules, that objection requires 60 votes to overturn and possibly as many as 30 hours of debate, which could spread over several days. Democratic leaders in the Senate can quickly muster the required majority, but Hill's critics will get a new platform to voice their concerns.
Brownback has spoken against Hill, including in an angry speech on the floor of the Senate, for failing to include human rights issues in talks with the North Koreans. Hill was U.S. point-man in the Bush administration's nuclear negotiations with North Korea. Hill also said human rights would have been included in later talks if North Korea had fully revealed details of its nuclear weapons program.
The six-party talks on North Korea stalled in the final months of the Bush administration.
Brownback's criticism has gained additional traction as North Korea prepares to launch a long-range rocket, possibly this weekend, in defiance of the United States and others countries. North Korea also detained two U.S. journalists in March.
In his floor speech, Brownback ripped into Hill for not forcing concessions from the North Koreans.
"Taken all together this is an unfortunate legacy for Ambassador Hill -- broken commitments to Congress, freelancing diplomacy, disregarding human rights and giving up key leverage to the North Koreans in exchange for insubstantial gestures. Such things have harmed our national security and ignored our moral obligations, a legacy ill-suited for the next chief of missions of Iraq," Brownback said.
Sen. John Kerry, chairman of the Senate Foreign Relations Committee, which gave quick approval to Hill, had called for quick confirmation by the Senate.
"Of course, senators have every right to vote against Ambassador Hill," Kerry said at the committee hearing. "But I believe that using Senate procedures to delay his arrival to Baghdad at a critical time in this war would do a serious disservice to our efforts there."
Hill also is opposed by Sen. John McCain, R-Arizona, and other Republican senators, who have cited Hill's inability to speak Arabic and lack of experience in the Middle East.
E-mail to a friend

All About North Korea • Iraq