WASHINGTON (CNN) -- Despite President Obama's vow to reign in earmarks -- pet projects lawmakers use to divert money to their home districts -- it looks like it may be business as usual in Washington.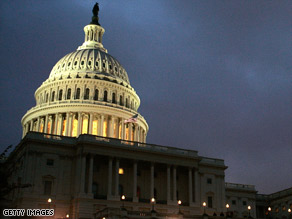 House members originally had until Friday to submit their earmark requests and publish them online.
Three of the top 10 earmark recipients from last year have already submitted requests for next year in the hundreds of millions of dollars.
Reps. John Murtha, D-Pennsylvania, Peter Visclosky, D-Indiana, and Ike Skelton, D-Missouri, have requested earmarks totaling more than $320 million.
House members originally had until Friday to submit their earmark requests and to publish them on their individual Web sites as required under Obama's new guidelines. But that date has been moved to Saturday at 5 p.m. because the House Appropriations Committee Web site where the requests were to be posted was overwhelmed and running "very slow," a committee staff member said.
Last month, the president signed a $410 billion spending bill -- that the White House said was necessary to finish "last year's business" and fund the government through the end of this fiscal year -- laden with 8,570 earmarks.
Calling it an imperfect bill, Obama laid out principles to reform future spending bills, including requiring each earmark to be open to scrutiny at public hearings. He also said any earmark for a for-profit company should be open to competitive bidding, and federal agencies would get 20 days to determine whether a project is worthwhile.
Don't Miss
The nonpartisan group Taxpayers for Common Sense applauded the transparency of posting the earmarks, but contended it is still a flawed process.
"We're not making decisions on basis of priorities or project merits," said Steve Ellis, the group's vice president. "We are spending taxpayer dollars on the basis of raw political muscle and that by definition means we're going to waste money."
Murtha, chairman of the powerful Defense Appropriations subcommittee, has submitted 68 earmark requests totaling $134.1 million -- less than the $176 million he requested last year.
"I believe that elected representatives of the people understand their constituents and districts best," Murtha wrote on his Web site.
"The responsible application of earmarked funds has widespread benefits for our communities, our state and our nation," wrote Murtha, who was one of the top earmark recipients in the 2009 budget.
Indiana Democrat Visclosky, another appropriations subcommittee chairman, is asking for 56 earmarks totaling $145.6 million, more than the $113 million he sought last year. Missouri Democrat Skelton, chairman of the House Armed Services committee, has submitted 12 earmarks totaling $40.8 million, far less than the $111 million he requested last year.
It wasn't only the party in power trying to bring some of the pork back home. Virginia Republican Rep. Frank Wolf is asking for four earmarks at a total of $92 million, Missouri Rep. Jo Ann Emerson wants 49 earmarks worth $92.1 million and Idaho Rep. Mike Simpson has submitted 79 earmarks totaling $156.5 million.

Watch Republicans blast the budget »
Wolf, Emerson and Simpson, all members of the House Appropriations Committee, weren't among last year's top 10.
Two Republicans who were -- Reps. Bill Young of Florida and Jerry Lewis of California -- haven't posted their earmarks yet.

The top earmark requester in the House last year -- now Sen. Roger Wicker, R-Mississippi -- has not yet posted any earmarks for this year.
The Senate Appropriations Committee has not set a deadline for senators to submit and post their earmarks.
E-mail to a friend

All About U.S. Congress • Republican Party • Democratic Party