By Terry Frieden
CNN Justice Producer





WASHINGTON (CNN) -- The release of sensitive "torture" documents has been delayed again after an agreement between lawyers for the Obama administration and the American Civil Liberties Union, a source said Thursday.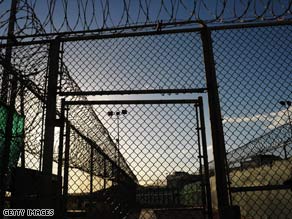 The ACLU says it reluctantly consented to a delay in releasing memos on torture in Guantanamo Bay.
Only an hour before a court-ordered deadline to make the documents public or explain why they would not, government lawyers submitted a court filing that gives them until April 16 to release three controversial 2005 memos.
The memos, written by a top Justice Department lawyer, provided legal guidance to the entire executive branch, including the intelligence agencies, on permissible "enhanced interrogation techniques" that could be used against suspected terrorists taken into custody.
The court filing, which was approved by the ACLU, said the administration has expanded its review of memos from the Office of Legal Council (OLC) to include a fourth document that had been sought by the ACLU in its Freedom of Information lawsuit filed in U.S. District Court in New York.
In addition to the 2005 memorandums written by Stephen Bradbury, the Justice Department also agreed to the possible release of a fourth document. That 2002 opinion by former Justice Department lawyer Jay Bybee is one of two he wrote on interrogation methods on August 1, 2002. The other has already been released.
Don't Miss
"It is our goal to release OLC opinions to the maximum extent possible, while still protecting national security information and ensuring robust executive branch decision-making," the Justice Department said Thursday. The statement suggested the government is leaning toward release of the documents demanded by the ACLU.
In an ACLU statement, lawyer Jameel Jaffer said the documents are "the foundation for an interrogation program that permitted the most barbaric forms of abuse."
"We reluctantly consented to this extension based on the government's representation that within two weeks it will re-review not only the May 2005 Bradbury memos but also the August 2002 Bybee memo that was one of the cornerstones of the CIA's torture program," Jaffer said.
Government officials have privately acknowledged to CNN there has been an intense internal debate about whether the memos can be released without harming national security.
Intelligence community officials have led opposition to the release, saying making them public could provide important information that could be useful to any suspected terrorists captured by the United States in the future.
U.S. District Judge Alvin Hellerstein has agreed to previous extensions and is expected to approve another because the parties are in agreement.
E-mail to a friend

CNN National Security Producer Pam Benson contributed to this report.
All About U.S. Department of Justice • American Civil Liberties Union • Torture