By Kristi Keck
CNN





(CNN) -- A congressional tactic described as a "freight train" to run over the minority party could derail any hopes of bipartisanship with the Obama administration, some Republicans warn.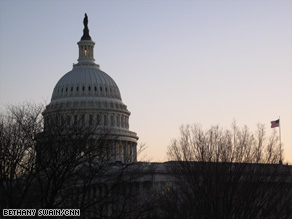 The "reconciliation" tactic would help President Obama move swiftly on his agenda but at a cost, an analyst says.
"Reconciliation" is a procedure that could put some of President Obama's major initiatives, such as overhauling health care, on the fast track to becoming law if lawmakers adopt it in their budget resolution.
The process would allow senators to cut off debate on some legislation with 51 votes -- a simple majority -- instead of the 60 usually required.
Senate Republicans said they worry the process effectively could silence any voice they have in negotiations since Democrats would not need their votes to move ahead with Obama's agenda. (The Democrats have 58 votes, including two independents, and Republicans have 41.)
The GOP did have a victory Wednesday night when the Senate overwhelmingly voted 67-31 in favor of an amendment that would prohibit using the fast-track procedure to pass Obama's "cap-and-trade" plan to combat global warming.
The "cap-and-trade" system would set limits on how much carbon emissions an industry could produce. Companies that produce more would have to buy permits to do so from ones that produce less, giving companies an incentive to reduce emissions.
All Republicans and 26 Democrats voted for the amendment, which Republican Sen. Mike Johanns of Nebraska offered.
The vote, however, does not mean reconciliation won't be used to pass the president's health care plan, as several senior Democrats have suggested in recent days is likely to happen.
But experts said both parties have used the tactic when they were in power.
"There's plenty of precedent on both sides for using it," said Larry Sabato, director of the University of Virginia's Center for Politics. "The question is, is it wise? There's where the real debate is."
Republican Sen. Mike Enzi of Wyoming likened reconciliation to "a declaration of war," and Senate Minority Whip Jon Kyl, R-Arizona, said the White House could turn legislation into a "purely partisan exercise."
But Senate Majority Leader Harry Reid, D-Nevada, said Tuesday that lawmakers are getting worked up for nothing.
"I don't know why everybody's up in arms," he said, explaining to reporters that reconciliation has been used 19 times in recent years by Congresses controlled by both parties.
House Majority Leader Steny Hoyer, D-Maryland, on Wednesday insisted the use of budget reconciliation is a "fallback position, not an entering position."
But Hoyer defended the use of the procedural tool and read a lengthy list of examples of Republicans using of it on a range of issues.
In 2001, the GOP-controlled Senate used reconciliation to pass President Bush's tax cuts. Democrats objected to the move, saying it was an abuse of the budgeting system.
"This is provided for in our rules. It is provided for in our rules so that we can facilitate moving ahead on issues critical to the American public," Hoyer said.
Right now, the Senate budget resolution does not include reconciliation instructions, while the House version does for the health care overhaul. After the two chambers pass their bills, the versions will be conferenced together -- and that's how reconciliation could end up in the final language.
Hoyer defended the language on health care, saying, "This is about saying that this is a very important objective, and there are mechanisms to accomplish that."
The reconciliation process can be used to help the president move swiftly on his platform, but he'll be burning bridges along the way, Sabato said.
"Essentially, reconciliation is a freight train in which you pour all the coal into the fire and it steams ahead unstoppably, but there's a cost to that. You own everything, and you cause hard feelings that can last," he said.
As evidenced by the stimulus bill, every vote counts. The fate of Obama's stimulus package rested in the hands of three moderate Republicans, who broke ranks to support it after round-the-clock negotiations by Democrats.
The administration, Sabato said, now owes it to those senators -- Arlen Specter of Pennsylvania and Olympia Snowe and Susan Collins of Maine -- because they've been dogged by their own party ever since.
"Good will can be a bankable commodity," Sabato said. "Most Republicans are never going to offer him good will, but he needs that slice of Republicans who will. It may be a small slice, but they can be critical."
While Obama likely would be able to get an overhaul of health care passed quickly by means of reconciliation, the process effectively would eliminate the administration's opportunity to form bipartisan coalition on a major initiative.
"The rule is a policy is more secure if it passes on a bipartisan vote," said Bill Schneider, CNN's senior political analyst.
On Tuesday, a letter signed by all 41 Republican senators was distributed to Democratic Hill leaders urging them to forgo reconciliation to pass health care legislation, saying doing so "would make it difficult, if not impossible, to gain broad, bipartisan support" for the bill.
Schneider said moving ahead with the procedure would go against Obama's credo of change, part of the message that helped him win the White House.
"It contradicts President Obama's campaign pledge of bipartisanship. And it makes any resulting legislation appear partisan and therefore vulnerable to challenge when the partisan tides shift," he said.
But he noted, "It takes two sides to achieve bipartisanship."
"If Republicans refuse to support significant Democratic legislative commitments, Democrats can claim they got a mandate in '06 and '08 to pass things on their own," he said.
E-mail to a friend

CNN's Ted Barrett and Deirdre Walsh contributed to this report.
All About U.S. Senate • U.S. House of Representatives • Health Care Policy