LONDON, England (CNN) -- Barack Obama announced new arms negotiations with Russia's president, discussed North Korea with China's president, talked about the global economy with Britain's prime minister and had tea with Queen Elizabeth II on Wednesday -- a busy day for any leader.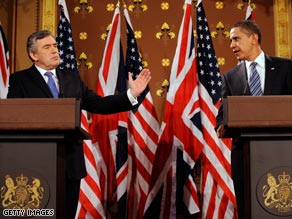 British Prime Minister Gordon Brown, left, and President Obama speak in London, England, on Wednesday.
But it was the American president's first trip overseas, ahead of the Group of 20 summit that begins Thursday in London, and his first face-to-face meeting with everyone except Prime Minister Gordon Brown.
Obama and Russian President Dmitri Medvedev announced talks would soon begin "to work out a new, comprehensive, legally binding agreement on reducing and limiting strategic offensive arms," according to a joint statement released after their meeting.
The two leaders agreed that the Strategic Arms Reduction Treaty, which expires in December, had "completely fulfilled its intended purpose and that the maximum levels for strategic offensive arms recorded in the treaty were reached long ago."
The Obama administration also announced Obama will travel to Russia to meet with Medvedev in July.
In a joint news conference with Brown before his meeting with Medvedev, Obama emphasized Moscow and Washington have a common interest in "reducing nuclear stockpiles and promoting nuclear nonproliferation" across the world.
"One of the things I have always believed strongly is that both the United States and Russia and other nuclear powers will be in a much stronger position to strengthen what has become a somewhat fragile, thread-bare nonproliferation treaty if we are leading by example and if we can take serious steps to reduce the nuclear arsenal," he said.
Don't Miss
Obama also touched on arms issues with Chinese President Hu Jintao after his meeting with Medvedev, senior administration officials said. Key in that discussion was North Korea's planned launch of what they say is a satellite, expected as early as this weekend.
The United States views the launch as "a provocative act," one official said, and "will respond in the event of a launch" by seeking action from the U.N. Security Council. The United States considers the expected launch as a violation of Security Council resolutions regarding the launch of ballistic missiles.
The two presidents also discussed some human rights issues, the officials said, as well as the global economy.
"The presidents agreed that the strong links between China and the U.S. economies have been a great mutual benefit, both in terms of trade and investment, and they were eager to build on that," one official said.
The officials also announced that Hu had invited Obama to come to China and the U.S. president accepted, with a trip tentatively planned for the second half of the year.
Obama's first meeting Wednesday was with Brown, whom he had met earlier this year in Washington. The president said after that meeting that world leaders meeting at the G-20 summit "cannot afford half-measures" as they try to hammer out ways to address the global financial crisis.
Obama said G-20 delegates have "a responsibility to act with a sense of urgency" and come up with "tough new rules" for managing the world economy.
"We've passed through an era of profound irresponsibility," Obama said at a joint news conference. "Now, we cannot afford half-measures and we cannot go back to the kind of risk-taking that leads to bubbles that inevitably burst. So we have a choice: We either shape our future or let events shape it for us."

Watch as Obama says the U.S. will do its share »
The two leaders praised the continuation of the "special relationship" between Britain and America, with Brown calling it resilient and constant.
"Ours is not an alliance of convenience -- it's a partnership of purpose," Brown said.
Brown called on world leaders to cooperate in achieving five tasks at the one-day summit, starting with restoring growth to emerging market economies and agreeing to "clean up" the global banking system.
There will be no sustainable recovery until a new regulatory system for the banks is put in place, Brown said.
Leaders must also commit to whatever is necessary to bring about the resumption of growth, Brown said. They must kick-start global trade and resist protectionism, he said, and lastly, they must make sure that economic recovery is low-carbon and sustainable so as to protect the environment.
"We have some tough negotiations ahead," Brown said. "It will not be easy, but ... the world does want to come together."
Obama finished his whirlwind of meetings with tea at Buckingham Palace with the British monarch and her husband, Prince Philip, where, according to media reports, the president gave the queen a fully loaded, engraved iPod and a rare, signed songbook from American composer Richard Rodgers.
"It was a wonderful visit," Obama said as he and his wife, first lady Michelle Obama, left the palace, according to media reports. "Her Majesty is delightful."

Wednesday night, Obama joined other G-20 leaders for an elaborate dinner at the prime minister's residence.
And on Thursday morning, the G-20 summit begins.
E-mail to a friend

All About Barack Obama • Gordon Brown • Dmitry Medvedev • Hu Jintao