From Mike Mount
CNN Senior Pentagon Producer






WASHINGTON (CNN) -- Days after President Obama announced his strategy for security in Afghanistan, senior Defense Department leaders told a congressional panel more effort is needed to fight the growing insurgency in Pakistan and Afghanistan.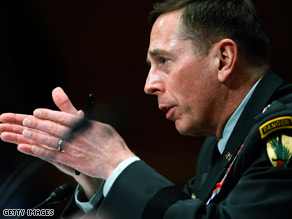 Gen. David Petraeus testifies before the Senate Armed Services Committee.
Those two countries together make up the front line for the war on terror, Gen. David Petraeus, chief of U.S. Central Command, and Michele Flournoy, undersecretary of defense for policy, said in their appearance Wednesday before the Senate Armed Services Committee.
But the chairman of the committee, Sen. Carl Levin, D-Michigan, expressed doubt about the administration's plan, which puts much more emphasis on working with Pakistan to help it solve its own insurgency problems and close the porous border.
"I remain skeptical that Pakistan has the will or capability to secure their border," Levin said.
Pakistan's border with Afghanistan has long been a problem for U.S. troops as insurgent fighters move easily between the two countries while planning and carrying out attacks on U.S. and Afghan troops.
While it is important to help Pakistan, Levin said, he disagrees with the administration's claims that the fates of Afghanistan and Pakistan must be linked.

Watch more on Obama's "Af-Pak" policy »
"I do not agree with statements by some in the administration that we cannot make progress in Afghanistan without success on the Pakistan side of the border," he said. "We should not tie Afghanistan's future totally with the success of efforts in Pakistan."
Both Petraeus and Flournoy urged senators to back aid and training for Pakistan.
"Considerable further work is required," Petraeus said. "We need to provide the support and assistance to the Pakistani military that will enable them to confront the extremists."
Asked by Sen. Lindsey Graham, R-South Carolina, whether the central front of the war on terror has shifted from Iraq to Afghanistan, Petraeus said it has, though the front is in both Afghanistan and Pakistan.
"In fact, our focus is truly shifting to that front," Petraeus said.
He said there is no doubt the United States will see more casualties and costs.
"This is going to get harder before it gets easier," the general said, echoing the words of Vice President Joe Biden. "That is our assessment, and it is worth seeing this through to conclusion."
Flournoy added, "There will be higher human costs and higher financial costs to this effort."
Senators pressed Flournoy and Petraeus about the lack of quantifiable goals to measure success in the new strategy.
"How will you know whether or not this new strategy is working? It seems to me you need a set of clear benchmarks going in," said Sen. Susan Collins, R-Maine. "We should not be committing additional troops until we have a means of measuring whether or not the strategy is successful."
Flournoy replied there are "broad metrics" for measuring cooperation from Pakistan and there also are measurements for Afghanistan that the new administration is trying to refocus. Troops were sent ahead of that refocusing in response to the need expressed by the commanders in Afghanistan, she said.
"We aren't starting with a blank sheet, but we are in the process of refining the metrics that have been used in Afghanistan," she said.
Sen. Jim Webb, D-Virginia, wanted to know what will indicate that the United States can end its involvement in military operations in the region.
"I think a key point of defining success is when both the Afghans and Pakistanis have both the capability and the will to deal with the remaining threat by themselves," Flournoy said. "(When) the period of extraordinary intervention and assistance comes to a transition point and we go to a more long-term, normal development assistance relationship with both countries. When we have reduced the threat and built that capacity locally to the point where they can be much more self-reliant in managing this problem."
Petraeus added, "The test will be for them to shoulder the responsibilities of their own security and other responsibilities of governance."
Senators were concerned that commanders' requests for 30,000 additional troops in Afghanistan have not yet been fully met. So far, the administration has announced plans to send 21,000 more troops.
"I think it would be far, far better to announce that you will have the additional 10,000 troops dispatched. They will clearly be needed," said Sen. John McCain, R-Arizona, who otherwise said he agrees with the administration's strategy.
"To dribble out these decisions, I think, can create the impression of incrementalism. We all know what is needed," he said.

Later in the hearing, Flournoy and Petraeus said the president is aware of the request but wants to assess the need closer to when they would be deployed.
"What the president was told (is) that the request is out there, but he doesn't have to make a decision until the fall so the troops will arrive as planned in 2010," Flournoy said. "He wanted to reassess where we are when ... that decision has to be made."
E-mail to a friend

All About David Petraeus • U.S. Senate • Pakistan