WASHINGTON (CNN) -- House Republican leaders unveiled their alternative to the proposed Democratic budget Wednesday, calling for $4.8 trillion less in overall spending over the next decade -- in part through a five-year freeze in most nondefense discretionary spending.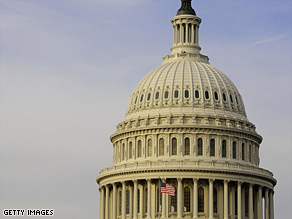 Republicans on Wednesday offered an alternative to President Obama's budget.
The GOP budget would repeal the entire $787 billion economic stimulus package except for an extension of unemployment insurance benefits. It also would roll back a recently passed 8 percent spending boost in the budget for the remainder of the current fiscal year.
At the same time, the federal share of Medicaid payments would be converted to block grants for the states. Medicare would be transformed for Americans younger than 55 by allowing them to choose from a series of preapproved private insurance plans, with premium payments from the federal government to insurers varying according to an individual's age, income and health.
Overall the Republican budget calls for $3.6 trillion less in borrowing over the next 10 years.

Watch more on the GOP budget alternative »
"The president's budget is little more than a thinly veiled attempt by Washington to spend its way into prosperity, tax its way into tax relief and borrow its way into debt reduction. This simply cannot work," said Wisconsin Rep. Paul Ryan, the ranking Republican on the House Budget Committee.
"Rather than getting spending under control, (the Democratic plan) sends spending out of control," he said. "Rather than keeping taxes low to create jobs, it chases ever higher spending with ever higher taxes and results in ever higher debt; not just a modest increase in our national debt, but an unprecedented, unsustainable increase in red ink."
Total federal spending under the GOP proposal would fall to 20.7 percent of the nation's gross domestic product, as opposed to rising to 24.5 percent of the GDP as proposed in President Obama's budget, according to a document released by the House Republican leadership.
The GOP budget permanently extends all of former President Bush's 2001 and 2003 tax cuts. Among other things, it also suspends capital gains taxes through 2010.
It also calls for establishing a new tax system based on two rates. A 10 percent income tax rate would apply to couples making $100,000 or less, as well as singles earning less than $50,000. The income tax rate would rise to 25 percent for those earning more.
The House GOP budget also calls for a repeal of the estate tax, as well as dropping the corporate tax rate from 35 percent to 25 percent. Capital gains and dividends would be taxed at 15 percent.
Defense spending would be increased by $5 billion compared with Obama's budget. The GOP proposal also calls for an additional $540 million in veterans' spending above Obama's proposal.

Watch more on Obama's budget details »
Ryan slammed the Democrats for only providing a five-year budget projection. Obama and the Democratic congressional leadership are trying to "hide their explosive spending by not offering a full 10-year budget," he argued.
Democrats were quick to criticize the GOP proposal as little more than a way to help the wealthiest Americans at the expense of the rest of the country.
"If you expected a GOP alternative to the failed policies of the past that got our country into the worst economic crisis since the Great Depression, then I have two words for you: April Fools," said Kenneth Baer, communications director for the administration's Office of Management and Budget.
Democrats also took aim at the proposed Republican health care entitlement reforms.

"The Republican plan for health care, including Medicare, is to give everyone a voucher, deregulate the insurance market and say after that, 'You're on your own.' We as Democrats don't believe that's the answer or the solution to the problem we're facing right now," said Rep. Joe Crowley, D-New York.
"We ideologically have an honest and fair difference of opinion here," he concluded. But "the people have spoken. They've put us in charge."
E-mail to a friend

All About Republican Party • U.S. House of Representatives • Democratic Party