(CNN) -- In his first week as president and chief executive officer of General Motors, Fritz Henderson expressed optimism that he can steer the company out of the economic rut in which it has stalled.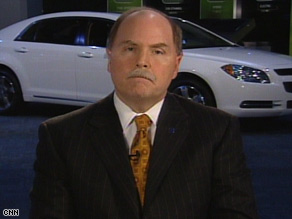 General Motors CEO Fritz Henderson is hopeful the company's malaise won't be long-term.
"The challenges are immense but, you know, let's bring it on," Henderson said Wednesday.
The 50-year-old GM lifer said the company has plenty going for it, from workers to dealers to customers, "so we need to get the job done. It's that simple."
The federal government has given him 60 days to restructure the deeply indebted company if he wants to get federal funds to keep it in business.
"It's painful," he said. "We have to make sacrifices everywhere in the business."
Henderson was moved up to the driver's seat Friday, when the White House told his former boss, Rick Wagoner, to resign.
Henderson did not exclude the possibility of seeking bankruptcy protection for the industrial behemoth, though "bankruptcy has not been our preferred approach," he said.
He said his moves are being closely monitored -- a government task force considering the proposed federal bailout "has been intimately involved in our business for six, seven weeks."
The company will "do whatever we can" to minimize the amount of federal funding needed, he said.
That will mean lowering break-even points, reducing costs and streamlining operations, Henderson said. Left unsaid were the specifics that observers expect will be required: negotiation of big concessions from bondholders and the United Automobile Workers, to which GM owes $20 billion for retired workers' health care.
"It's all about, frankly, creating a leaner, tougher, more resilient General Motors," the Harvard MBA said.
He held out hope that the company's malaise would not be long-term.
"When things turn, they turn fast," he said. "It can be a wonderful business when it's on the upside, particularly when you get a business that's properly structured."
Before Friday, the Detroit, Michigan, native had been the company's president and chief operating officer since March 2008. Before that, he was vice chairman and chief financial officer.
Henderson, a certified public accountant, started working for GM in 1984 as a senior analyst in the treasurer's office.
E-mail to a friend

All About Fritz Henderson • Rick Wagoner • General Motors Corporation • United Auto Workers