By Drew Griffin and Kathleen Johnston
CNN Special Investigations Unit





MOSS POINT, Mississippi (CNN) -- In this Gulf Coast town hit hard by Hurricane Katrina, Mayor Xavier Bishop has a problem that he can't untangle: mountains of red tape.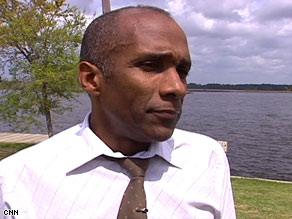 Mayor Xavier Bishop is frustrated that projects to rebuild his city take forever going through bureaucratic hoops.
Pummeled by the ferocious hurricane nearly four years ago, Moss Point, Mississippi --population 15,000 -- has tried to rebuild with the millions of federal disaster-relief dollars it received. But each contract must go through so many different agencies, each with its own set of rules and regulations, that work is often brought to a crawl.
Some projects have yet to begin. In some cases, crews have been forced to start all over again with a different federal agency, Mayor Bishop said.
Moss Point and other towns like it are slated to receive more money from the Obama administration's economic stimulus package, the American Recovery and Reinvestment Act. But that money will come with a new string attached -- any project must be "shovel-ready."
After more than three years of trying to navigate the post-Katrina bureaucracy, Bishop and another Gulf Coast mayor, Connie Moran, have this advice for their colleagues: Be prepared for a lot of frustration.
Despite the administration's emphasis on "shovel-ready" projects, don't expect a lot of job creation on the front end, they warn.
They say one more thing: Banish the term shovel-ready.
Mississippi still has plenty to spend. Its governor, Haley Barbour, recently urged cities and towns like Moss Point to begin projects by September, or the state faces the loss of as much as $1.6 billion in Katrina reconstruction funds.
Bishop is still working out of a trailer more than three years after the August 2005 hurricane wiped out his city hall. He said federal and state officials are constantly changing the rules governing the money.
In one case, after receiving a pledge of $70 million for road repairs from the Federal Emergency Management Agency, he said FEMA told him the project is no longer its concern. Moss Point must now reapply for the funds from Mississippi's state Department of Transportation, he said.
"Oh, and there's no guarantee that they have the $70 million, so you might be left out in the cold," he said.
For the upcoming stimulus money, Bishop -- a Republican who is not running for re-election -- has zeroed in on a small repaving project. It won't put many people to work, but it's ready to start now.
"This is an incredible opportunity for my city that I feel like I'm going to miss out if I don't do something, and yet what I do is not going to hit the mark," he said.
What he needs, he said, is to use the money to fill in trenches, build sidewalks, replace sewers. But those projects aren't shovel-ready. They take planning and time.
Both Bishop and Moran, of nearby Ocean Springs, say they are grateful for the stimulus money, and towns like theirs and others around the country need it. But Bishop said his experience with the recovery funds has taught him to pick projects most likely to clear bureaucratic hurdles, not necessarily the ones that will create the most jobs.
"Again, this is becoming eerily like Katrina, because there's no idea how much funding is going to become available," Bishop said.
"There's very little in terms of parameters that outline the sort of project that would be eligible, the process that we would have to go through. But I mean, let's face it. What mayor in what city wants to be left not having submitted any potential projects?"
Moran, a Democrat, has an advantage in running the bureaucratic money maze: She was a grant writer in private life, so she knows a little bit about red tape. But even she is finding the federal and state bureaucracies difficult to navigate.
She would like to turn the parking lot of an old train depot in Ocean Springs, a town of about 18,000 located 20 miles west of Moss Point, into green space. But getting approval to bury the utility lines took 18 months, and she has to go through appraisals and re-appraisals to be able to buy the property.
"We have the money for it," she said. "It's been there. It was approved several years ago, but just going through the bureaucratic red tape is what's holding it up," she said. "It's very daunting."
Rebuilding a pier required jumping through agencies' hoops. The federal government required her at one point to do sonar testing in shallow waters to make sure a 17th-century French ship wasn't buried below the sand, she said.
With the stimulus money on the way, Moran has chosen projects she thinks can get easily pass through the bureaucracy, such as tearing down a fence or cleaning up a drainage ditch. Even then, the earliest construction on those shovel-ready projects can start will be September.
"Six months," she said. "That's how long it will take to get all the contracts through MDOT [Mississippi Department of Transportation] and the Federal Highway Administration."
Bishop said a small amount of the stimulus package "has to deal with appearances and certainly give the appearance that people are being put back to work."
"That may work well within political circles," he said. "But in terms of its long-term social impact, I think this is something that needs to be thought through and throughout for its long-term benefit, not just for its immediate benefit."
E-mail to a friend

All About Hurricane Katrina • Economic Stimulus • Mississippi • FEMA