By Roland S. Martin
CNN Contributor





Editor's note: A nationally syndicated columnist, Roland S. Martin is the author of "Listening to the Spirit Within: 50 Perspectives on Faith" and "Speak, Brother! A Black Man's View of America." Visit his Web site for more information. For the next few months, he will be hosting "No Bias, No Bull" at 8 p.m. ET on CNN while Campbell Brown is on maternity leave.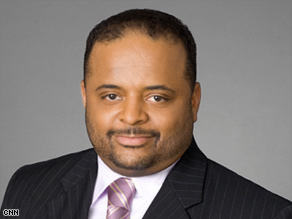 Roland Martin says men are harming their health by their reluctance to go to the doctor.
(CNN) -- A couple of years ago, my dad told me that he had a cataract in his eye and could barely see out of it and that he needed to get it fixed.
"Cool. Go to the doctor and get it taken care of," I said.
"I will," he replied.
One month became three; three months turned into six months; and a year later and numerous calls later by a ticked-off son, he still had not gone to the doctor.
So one morning, when I was hosting the 6 to 9 a.m. talk show shift on WVON-AM in Chicago, Illinois, I told my producer, Geneen Harston, to call my dad, but don't tell him he'll be on the air.
When the commercials ended, I pulled him up on the air and asked, "So, dad, have you made that doctor's appointment?"
Roland Martin
Nothing's off-limits when Roland Martin steps in. Watch Roland on CNN.
Tonight, 8 ET

He started to laugh and said that he had done so the day before and that he was seeing the doctor later in the week. Luckily, he followed through, and they discovered that he had another one growing in the other eye. Both eyes were taken care of, and all has been well since.
Yet what ticked me off was that here was a guy with insurance, a son who could pay for the bill even if he didn't, but he still refused to go to the doctor!

Watch Roland's commentary segment »
My dad's story is all too common to a lot of you who must deal with fathers, brothers, uncles, husbands and male cousins, church members and co-workers, who are obstinate and absolutely refuse to go to the doctor.
"Oh, I'll be fine." "I can handle the pain." "I don't want a doctor poking on me." "If it's bad, I'm sure it would hurt worse."
All typical responses, and all pretty dumb.
Yes, it's true that women all around the globe have outlived men for years. In the United States, the life expectancy for men is 74 and for women is 80. Yet when that is broken down racially, there is a huge gap between whites, blacks, Hispanics and Asians.
Men are dying earlier due to prostate cancer, heart disease, stroke and other maladies, and their actions play a large role in it.
Don't Miss
Black men in particular drive me nuts. I've heard several mention that their aversion to doctors stems from the Tuskegee Syphilis Experiment, the study conducted between 1932 and 1972 that monitored black sharecroppers who were infected with the disease but didn't treat them, much less inform them that they had it.
That program by the U.S. Public Health Service was hideous but shouldn't be used as an excuse today.
Men can no longer be so hard-headed about their health. I've given speeches on this issue and told married women that they should say, "no doctor's visit, no sex." That'll get his attention!
We all love the men in our lives. But being silent means we are aiding them in their health dilemma, and that's wrong.

If it means lovingly reminding, fine. If you have to badger them, whatever. Just like Dad told us to eat our vegetables when were kids, saying we'll be better off as adults because of it, we should tell Dad or any other man to stop acting like a child and go see the doc. It really could save their life.
The opinions expressed in this column are solely those of Roland Martin.
E-mail to a friend

All About Health Care Issues • Prostate Cancer • Health and Fitness