By Elise Labott
CNN State Department Producer






Editor's note: Since becoming State Department producer in 2000, Elise Labott has covered four secretaries of state and reported from more than 50 countries. Before joining CNN, she covered the United Nations.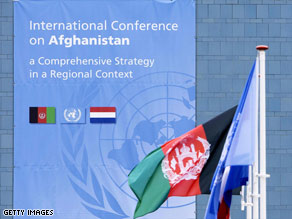 Dutch and Afghan flags fly in The Hague, Netherlands, on March 31.
THE HAGUE, Netherlands (CNN) -- When President Obama meets the leaders of NATO countries in Strasbourg, France, on Thursday, the gathering will be large on pomp and circumstance to celebrate NATO's 60th anniversary and short on substance on the major challenge facing the alliance: how to stabilize Afghanistan.
That wasn't how NATO wanted it. But the 16 or so non-NATO countries with troops in Afghanistan found it unfair for such discussions to take place without them.
As Australian Defense Minister Joel Fitzgibbon put it to his fellow ministers at a recent meeting on Afghanistan, "How can my prime minister explain to his public why Australians are risking their lives in Afghanistan when NATO is sipping champagne in Strasbourg and we aren't there?"
So Strasbourg will now be a true celebration, and the real work on Afghanistan has been shifted to an international conference in The Hague, where more than 80 nations and international organizations gathered this week to jumpstart political support for the war-torn country.
Secretary of State Hillary Clinton was given the task of laying out the new U.S. strategy for Afghanistan, announced by Obama last week.
Diplomats said the conference won't be a rubber stamp of the American plan. But plans to send 4,000 more troops to increase training for the Afghan army and police force and hundreds of civilian specialists to help stabilize and rebuild the country have been greeted with unabashed enthusiasm.
One of the major reasons is that most of the ideas in the plan are ones that most of the participants at the conference have been urging for some time.
"Of course we love Obama's plan," one senior European diplomat said. "What other plan is there?"

Watch Obama lay out his plan for Afghanistan »
Though Obama once said he wanted NATO to commit more troops to the Afghanistan effort, reality set in. The United States doesn't need more military with the kind of caveats NATO members called for about where the troops could go.
Instead, the United States now wants their help with Afghan police training, development and civilian support.
The "civilian surge" comes from the realization that military action alone will not rescue Afghanistan from the Taliban's strengthening grip. Even if the military campaign proved successful against the Taliban, diplomats warn, those gains will be lost without development.
Indeed, European Union foreign policy chief Javier Solana told the participants at the conference that "the solution to Afghanistan will be political, not military."
The Dutch, who have 1,700 troops in Afghanistan and a robust reconstruction program in the turbulent southern provinces, have long argued in favor of the three Ds: defense, diplomacy and development. Clinton has now embraced that formula as the key to saving Afghanistan.
The increased military presence will provide protection for the civilian surge. Without it, the sorely needed civilian agricultural specialists, engineers and political advisers would not be able to roam the country and work on crucial projects.
There is also wide agreement at The Hague on the need to to include Pakistan in a regional strategy and for Afghans themselves to take responsibility for their future. With corruption rampant throughout the government, President Hamid Karzai has not exactly inspired hope among his international partners.
Diplomats hope the conference will result in a "new deal" between the Afghan government and the international community.
If the international messages about Afghanistan's future were positive, those coming from Karzai were anything but.
He defended his government's record but gave few specifics about how he would meet international demands for results. He spoke only casually about the relationship between his government and the United States and left the conference early without holding a news conference, even though his country was one of the co-chairs.
The Obama administration seems to have given up on Karzai. In not-so-subtle criticism, Clinton called corruption in Afghanistan a "cancer" and a government that doesn't fight it "a terrorist's best recruiting tool."
As the United States pledges to support Afghan elections in August, Washington finds itself in a difficult position.
It can hardly endorse Karzai's re-election at this point, but American officials recognize that there are few Afghan figures emerging to pose an attractive alternative.
Beyond the policy toward Afghanistan itself, the United States approach to The Hague conference reflects the Obama administration's approach to foreign policy in general: reach out to allies and foes alike.
At Clinton's suggestion, Iran was invited to the conference as a neighbor of Afghanistan, an olive branch the United States hopes will lead to the engagement with Tehran promised by Obama.
Tehran did not send its foreign minister but sent his deputy, Mehdi Akhundzadeh, who said his country was prepared to help in the reconstruction effort. But he warned that foreign troops haven't improved security and that more were unlikely to do any better.
Through both its message and its messenger, Tehran tried to portray itself as trying to be helpful but lukewarm about Washington's outreach.
Still, Iran's willingness to participate in the conference was encouraging, and Clinton called Akhundzadeh's speech "positive."

The fact that the U.S. envoy for Afghanistan, Richard Holbrooke, had a brief exchange with the Iranian delegation and agreed to keep in touch signaled that the United States not only may have some additional help on Afghanistan but could see progress on the Iran issue.
That provides an equal-size headache for an administration facing multiple foreign policy challenges.
E-mail to a friend

All About The Hague • Afghanistan • Iran • Barack Obama • Hamid Karzai