From Jill Dougherty and Elise Labott
CNN





THE HAGUE, Netherlands (CNN) -- Secretary of State Hillary Clinton on Tuesday endorsed Afghan plans to hold reconciliation talks with moderate Taliban members.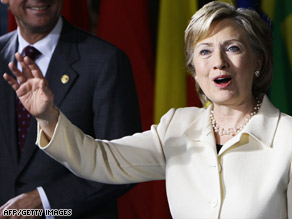 U.S. Secretary of State Hillary Clinton arrives Tuesday for a conference on Afghanistan at The Hague.
"We must support efforts by the government of Afghanistan to separate the extremists of al Qaeda and the Taliban from those who joined their ranks, not out of conviction but out of desperation," Clinton said in an address laying out the new U.S. strategy for the region that President Obama announced last week.
She added, "They should be offered an honorable form of reconciliation and reintegration into a peaceful society if they are willing to abandon violence, break with al Qaeda and support the constitution."
Clinton spoke at a conference aimed at stabilizing Afghanistan and jump-starting political support for the war-torn country. More than 80 countries and international organizations are attending.

Watch Clinton discuss Iran's role »
Last Friday, Obama unveiled his decision to send an additional 4,000 troops to Afghanistan to increase training for the Afghan army and police force. They will be joined by hundreds of civilian specialists such as agricultural experts, educators and engineers. The increase comes on top of an earlier announcement to send 17,000 additional troops to battle a resurgent Taliban insurgency.
Clinton said the United States is sending $40 million toward securing a free and fair presidential election later this year, although she has insisted the United States would not support or endorse a candidate.

Watch an Afghan's outlook for stabilizing his country »
On Sunday, Afghanistan's supreme court ruled that President Hamid Karzai will remain in office until the election.
Karzai's term is up in May, but the independent commission that will oversee the election has set it for August 20. The court's decision found that allowing Karzai to remain in power until that vote "is in the interest of the Afghan people and state, and it is also consistent with the spirit and interpretation of the constitution."
Karzai was named head of a provisional government after the U.S.-led invasion that dislodged the Taliban in 2001. Then he won an interim term in 2002 and a full term in 2004.
He is seeking a new term in August. But his government has come under increasing criticism for corruption and inefficiency, and an earlier effort to move the elections up to April drew criticism from opposition groups and the United States.
Clinton directed some not-so subtle criticism at Karzai's regime, saying there must be a government that is "legitimate and respected" with no room for corruption
"Corruption is a cancer -- as dangerous to our long-term success as the Taliban or al Qaeda," she said. "A government that cannot deliver for its people is a terrorist's best recruiting tool."
Addressing the conference Tuesday, Karzai renewed a commitment to fight corruption, provide good governance and counter the country's rampant drug trade.
"There can be no doubt our commitment and resolve," he said.
Karzai praised the new U.S. strategy for his country and said he hoped Obama's leadership will inspire more cooperation from Afghanistan's allies.
Meanwhile, a U.S. envoy spoke Tuesday to a senior Iranian official on the sidelines of the conference, the first direct contact between the two nations during the Obama administration, Clinton said.
Richard Holbrooke, the administration's special envoy to Afghanistan and Pakistan, had "a brief and candid exchange" with the head of the Iranian delegation, and the two men agreed to stay in touch, Clinton said.
Clinton said she has had no direct contact with the Iranians but had provided them with a letter in which she asked Tehran to release two Americans and to look for another, former FBI agent Robert Levinson, missing in Iran since March 2007.
Earlier this month, Obama delivered a message to the Iranian people on their new year, calling for better relations. Senior U.S. officials have said cooperation on Afghanistan could provide such an opening.
In his address to the conference, Iranian Deputy Foreign Minister Medhi Akhundzadeh said his country was "fully prepared" to cooperate on reconstruction and drug trafficking, but he warned the presence of foreign troops in Afghanistan has not improved security.
He urged the participants to focus on reconstruction and "refrain ... from giving priority to political or military matters."
Clinton urged Tehran to play a positive role in helping stabilize its neighbor.
"The fact that they accepted the invitation to come suggests that they believe there is a role for them to play, and we're looking forward to hearing more about that," she said Monday.
Clinton noted Iran's history of cooperating with the United States on Afghanistan since the U.S. invasion on issues such as border security and counter narcotics
"Trafficking in narcotics, the spread of violent extremism, economic stagnation, water management, electrification and irrigation are regional challenges that will require regional solutions," she told the audience.
Clinton said the United States would seek to impose greater measures of accountability in the aid programs to "trace the investment and the payoff for the American taxpayers and for the people on the ground."
"We recognize we're starting at a point where there is very little credibility for a lot of what's already been invested," she said. "There are good programs within governments and good programs within [nongovernmental organizations], but it is fair to say overall they have been a disappointment. And we know that, and we're going to have to try to get that fixed."
The U.S. strategy also emphasizes the need to combat extremism in western Pakistan, a partnership Clinton called "critical."
"Together, we must give Pakistan the tools it needs to fight these extremists," she said.

She reaffirmed the administration's support for legislation authorizing "$1.5 billion in direct support to the Pakistani people every year over the next five years -- resources that will build schools, roads and hospitals and strengthen the Pakistani government."
She urged participants to support Pakistan at a donors' conference next month hosted by Japan.
E-mail to a friend

All About Hillary Clinton • Hamid Karzai • Iran • Afghanistan