By Jason Chaffetz
Special to CNN





Editor's Note: Rep. Jason Chaffetz, a Republican, represents the 3rd District of Utah in Congress and is appearing in CNN.com's "Freshman Year" series, along with Rep. Jared Polis, a Democrat from Colorado.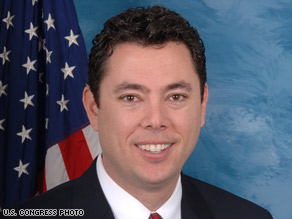 Jason Chaffetz says it would be a mistake to use the tax law to punish a specific group of taxpayers.
(CNN) -- I came to Washington, DC, for one reason -- to represent Utah to Washington. When I'm in our nation's capital, I am a voice for the people of Utah. But when I come home, it's their voices I want to hear. I want to be there to listen to frustrations, but also to celebrate successes.
Over the past two weeks I've had great opportunities to do both. I enjoy honoring the outstanding achievements of the people that make America great. But I also appreciate hearing the feedback that helps me understand what worries people at home.
Lately the feedback is all about bonuses, budgets and bailouts. The district office reported that most callers last week were angry about the AIG bonuses. Although callers hate the bonuses, they don't support a 90 percent tax on a targeted group to solve the problem.
During a telephone town hall on Wednesday, the majority of questions from constituents addressed the financial dysfunction in Washington. AIG was the most common symptom mentioned, although there was also dissatisfaction with spending levels, tax policy and the president's budget.
I released a statement on my Web site last week addressing the AIG problem, a problem that worried so many constituents. In my opinion, there is no need to manipulate the tax code to correct the problem that House and Senate leaders created. A better solution would be to withhold future taxpayer funds from AIG until the bonuses are repaid.
We can't undo the past, but we can avoid compounding previous Democrat errors, which is why I also oppose the Democrats' proposal to impose a 90 percent tax on the AIG bonuses. The Democrats are proposing to cover up their mistakes with bad policy.
Don't Miss
Manipulating the tax code is bad policy and serves to promote the Democrat agenda of punitive, targeted tax increases on individuals and groups they do not like. Democrats say they're getting our tax dollars back. It's great rhetoric, but it doesn't tell taxpayers the entire story.
There are two important things they are not telling you. First, leaders of the majority party are actually responsible for the bonus payments and are proposing bad tax policy to distract the public from this fact. Second, the proposal to use punitive tax policy to cover the mistake will actually have major unintended consequences when broadly applied. I do not support using broad tax policy to target narrow groups of people.
There is no question that Democrats supported giving AIG this money in the first place. The $165 million in AIG bonuses was made possible by an amendment to the "stimulus" package during the conference committee by Democrat Sen. Chris Dodd.
AIG is not the only company receiving taxpayer funding. Since government's involvement in the economy is unfortunately pervasive and since many legitimate companies receive government contracts to perform services, the Democrats' proposal establishes a precedent to impose or threaten to impose targeted taxes on companies that receive government contracts. Furthermore, retroactive taxation discourages investment and risk-taking.
I hosted three town hall meetings last weekend in three different counties. Again, government financial policy took center stage. People in Utah may disagree on many issues, but on financial issues they seem to be united. They are concerned about spending. They are confused about tax policy. And most of all, they are worried about how much we're borrowing.
They have grave misgivings about the president's desire to be a captain of industry who runs both the public and private sectors. They don't believe Washington has all the answers and they are nervous that more and more decisions that affect them are being made nationally rather than locally. The president's ouster of the CEO of General Motors will do nothing to allay my constituents' fears about government intervention in the private sector.
Concerns about the president's budget mirrored my own. As I expressed in a chat on my Web site last week, this budget spends too much, taxes too much, and borrows too much. If I'm going to represent Utah to Washington, my recent trips home confirm that these are the issues on which I must spend my political capital. Spending, taxing and borrowing are the issues that are keeping Utahns up at night.
Although it is impossible to schedule a formal meeting with every voter in my district, I'm excited about new technology that allows me to talk to hundreds and potentially thousands of people at a time. We have now hosted two Teleforums.
People love this tool because they can participate in a town hall meeting without leaving their home. We were able to dial 30,000 numbers within a two-minute period. Those who have an interest in hearing me answer questions (or who have a question to ask) can stay on the line and learn all about what we're doing in Washington. I plan to use this tool extensively to keep people informed and to help me recognize their questions and concerns.
I love hearing from people in my district, but one of the most uplifting aspects of my job is recognizing the achievements of constituents. It's one of my favorite assignments. For example, we recently honored talented high school artists in the Congressional Art Competition.
When you visit the Capitol, you'll see the winning entry from Utah posted in the tunnel between the Capitol and the House office buildings. I also had the opportunity to work with the Veterans of Foreign Wars to recognize two teachers for their excellence in the classroom. Visiting those schools and meeting with the students was the highlight of my week.
The problems we face are serious. There is a lot of work to do. I know what Utah needs from me and I'm determined to deliver. Meanwhile, I'm grateful for the American spirit that drives people to do great things. I appreciate the opportunity to recognize greatness, to honor service, and to thank those who give us reason to hope for a better future.
The opinions expressed in this commentary are solely those of Jason Chaffetz.
E-mail to a friend

All About American International Group Inc. • Federal Budget • Tax Policy