LONDON, England (CNN) -- Leaders at this week's Group of 20 summit must reshape the world's economic system to reflect global values, British Prime Minister Gordon Brown said Tuesday.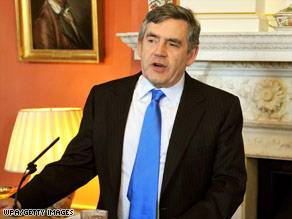 British Prime Minister Gordon Brown says that markets needs morals and they work best when values are upheld.
World leaders also must manage globalization to prevent a repeat of the mistakes that led to the current financial crisis, Brown said during a meeting of faith groups and charities at London's St. Paul's Cathedral.
"Instead of a globalization that threatens to become values-free and rules-free, we need a world of shared global rules founded on shared global values," Brown said.
While globalization has benefited the world with more choices, lower prices and lifting people out of poverty, it also has overwhelmed the established rules and financial systems, Brown said.
He said the old economic system must be reshaped to reflect the values shared around the world.

Watch analysis of leaders' reactions to President Obama's policies »
Don't Miss
"The unsupervised globalization of our financial markets did not only cross national boundaries -- it crossed moral boundaries, too," Brown said.
Markets need morals, Brown said, and they work best when the values are upheld.
The prime minister said that "you don't redesign a boat in the middle of a storm," but he also said it would be foolish to do nothing amid this crisis.
"We do not need the benefit of hindsight to know that the sheer scale, scope and speed of today's global changes is throwing up problems which, if we do not address, will condemn millions around the world to a life that is unsustainable, insecure and unfair," he said.

Leaders at Thursday's summit must provide the "oxygen of confidence" to give people around the world hope for the future, Brown said.
The G-20 summit is a meeting of the leaders of the world's 20 largest economic powers to discuss the global financial crisis and decide new measures to set the world on a more stable economic footing.
E-mail to a friend

All About Gordon Brown • Economic Crisis