By Bob Greene
CNN Contributor





Editor's note: CNN contributor Bob Greene is a best-selling author whose current book is "When We Get to Surf City: A Journey Through America in Pursuit of Rock and Roll, Friendship, and Dreams."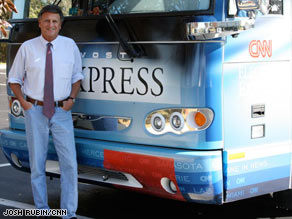 Bob Greene says the idea the U.S. government could force out a GM chief once would have been unthinkable.
(CNN) -- The phrases have become part of the national lexicon:
"What's good for General Motors is good for America."
And:
"As GM goes, so goes the nation."
Both are inexact translations of what GM's president in the middle of the 20th century, Charles Wilson, once said. His true words, according to many sources, were:
"For years I thought what was good for the country was good for General Motors, and vice versa."
So the meaning was the same, even as Wilson's sentences themselves were paraphrased. And perhaps the most instructive part about it -- during this week in which the current head of General Motors, Rick Wagoner, is leaving the company under pressure from the White House -- is the context in which Wilson was praising the power and the patriotic symbolism of GM.
He was appearing at a congressional hearing because a brand-new president of the United States -- Dwight D. Eisenhower -- had selected him to become secretary of defense. Wilson, who still had significant holdings in GM stock, had been asked, as he sat before Congress in 1953, if he would be able to make decisions for the country that might not be in the best interests of his old company; his instinctive response was that the question was largely irrelevant, because the welfare of the United States and the welfare of General Motors were in essence the same thing.
Don't Miss
Now another new U.S. president has made it clear that if the federal government is going to continue to provide billions of dollars in loans to the nation's wounded auto industry -- and to General Motors in particular -- then the federal government has to have a say in the way GM is run.
The circle has been completed: We have gone from a time in which the country's interests and GM's were widely seen as one and the same, to a time in which GM, a reluctant supplicant in dire need of money, is dependent on the White House's view not only of what is good for the country, but of what is good for GM. Thus, Wagoner is out.
How startling is this turn of events in the narrative of America's business, societal and governmental history? It wasn't so very long ago that a development like the one we're seeing this week would have been unthinkable. In a new book called "Restless Genius" -- a biography of Barney Kilgore, the driving visionary behind the rise of The Wall Street Journal in the last century -- author Richard J. Tofel reports extensively about GM during those years, because it is not possible to write about business journalism during that era without writing about the most successful business of them all. If it all seems like something from a long-ago fairy tale ... well, that's the kind of week this is.
General Motors, Tofel writes, by 1954 had reached a 45 percent share of all automobiles sold in the United States (in February of this year, GM's reported share was 18.8 percent). Not only did GM handily outsell Ford, but each of the five individual GM brands -- Chevrolet, Buick, Oldsmobile, Pontiac and Cadillac -- outsold the entire outputs of Chrysler, American Motors, Packard and Studebaker. Chevrolet alone sold more cars than those manufacturers combined.
General Motors, it seemed, was synonymous with the brawn and swaggering confidence of the post-World War II United States. Last fall, when the heads of GM, Ford and Chrysler were called to Washington to testify before Congress about their fiscal woes, there was much criticism because the men arrived in private jets. They appeared sheepish when challenged on it.
But when the American auto industry was a dominating force in the world, such perquisites of power were just a part of the job. Harlow Curtice, who succeeded Wilson as president of GM, "made more money than any other salaried employee in the country," according to Tofel: "The company he led had larger revenues than any other private concern in the world, and employed more than 550,000 people." Time magazine would write of Curtice:
"In many ways he lives a life that is beyond the comprehension of most of his car owners. Platoons of subordinates jump when he twitches. Garages filled with gleaming limousines and beaming chauffeurs stand ready to transport him wherever he desires. A private 18-plane air force of multi-engined, red-white-and-blue airplanes is at his disposal. ... High-salaried assistants smooth his path, greet him wherever he arrives, order his drinks, fetch his newspapers."
Whatever the America of that General Motors may have been, the America of today -- sending billions of dollars to GM in the hopes of keeping it afloat, giving GM's president not a Cabinet nomination, as Eisenhower did, but giving the current GM leader his walking papers -- is a vastly changed place.
As is Detroit itself, as it reels anew from what the plummet of the industry that defines it has done to the city. Monday would have been a day when residents throughout Detroit and its suburbs would have hurried to their front doors at dawn to pick up the morning paper and read about Wagoner's departure.
But there were no Detroit newspapers at Detroit's front doors Monday. It was the first day of the new incarnation of the Detroit Free Press and the Detroit News. Staggered by the grim economy, the two Detroit papers from now on will publish online and provide a smaller newsstand product, but under brutal financial pressures will only deliver to subscribers' homes on Thursdays, Fridays and Sundays. So on this astonishing Monday in the history of General Motors, and the history of Detroit, the front steps were bare.
The opinions expressed in this commentary are solely those of Bob Greene.
E-mail to a friend

All About General Motors Corporation • Detroit • Detroit Free Press Inc.