By
John King
CNN Chief National Correspondent





On CNN's "State of the Union," host and chief national correspondent John King goes outside the Beltway to report on the issues affecting communities across the country. This week, King traveled to Missouri, where he returned to a store that's still bringing together Obama fans.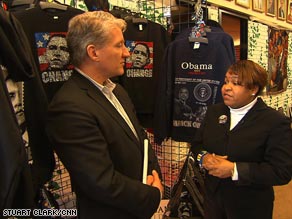 CNN's John King talks with Afroworld owner Sheila Forrest, who still stocks Obama pins and shirts.
ST LOUIS, Missouri (CNN) -- At first glance, it is as if Election Day never came.
The sign promoting "Obama" buttons and T-shirts still bends in the wind on the sidewalk outside Afroworld.
Inside, there are the festive dresses and colorful, wide-brimmed hats -- and racks and racks of different Obama inspired clothing and accessories, from T-shirts and sweat shirts to customized shopping and bicycle messenger bags.
Across the store, there bins and bins of campaign buttons. One has Obama's likeness alongside Dr. Martin Luther King. One features Michele Obama in a magenta sleeveless dress. Others proclaim "Cat Lovers for Obama" and "Soccer Moms for Obama."
Sheila Forrest, the owner, sports a "Christian American for Obama" button on her lapel -- and a giant smile on her face.

Go behind the scenes with CNN's John King »
When we first visited during last year's campaign, Forrest told us her business was struggling because the recession had convinced people to scale back on hair braiding and other personal luxuries. Then, as part of an effort to help then candidate Barack Obama, she ordered 100 buttons from a campaign Web site and offered them for sale in her store.
'State of the Union'
John King reinvents Sunday talk: More time, for more politics.
Sunday, 9 a.m. ET

"And within a matter of days they were gone," Forrest recounted as we visited this week. "And so we continued to get more buttons and more buttons and now we have over 200 styles of buttons."
They keep selling, and Afroworld is as much a community gathering place as a business -- and a testament to the sky-high approval ratings Obama maintains among African Americans who helped him to victory.
"Most people who have come in through the door are really still excited," Forrest says. "People are embracing this because it is something they can actually feel. We can actually feel that this is a president we can touch."
She has made one major change. Across the storefront, there no more "Obama 2008" banner. Instead, Forrest had it changed; "Obama 2012" is the giant banner that greets customers and those passing by now.

Our question: "Isn't it a little early for that?"
Says Sheila Forrest: "Nope. No because we want to keep the whole momentum going. You want to understand that this is going to take all of us to make this country a better place. And it is going to take time."
E-mail to a friend

All About Barack Obama • Michelle Obama • St. Louis