By Carol Cratty
CNN





WASHINGTON (CNN) -- Some people may think the words "government" and "efficiency" don't belong in the same sentence. Department of Homeland Security Secretary Janet Napolitano does not agree.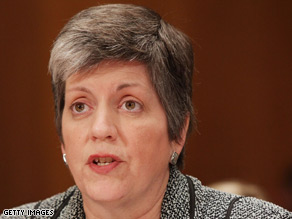 Homeland Security Secretary Janet Napolitano her agency's challenge is to operate more efficiently.
Napolitano outlined plans Friday to "improve efficiency and streamline decision-making" in her department.
According to her, millions of dollars can be saved by making changes in such things as how the department orders office supplies, gets computer software and uses energy.
The agency will also reduce the number of newspapers and professional publications it receives, Napolitano said, and no documents will be printed that could otherwise be sent out electronically or posted online.
The secretary said that a lot of business travel would be jettisoned in favor of conference calls. She also wants the department to use hybrid vehicles when possible.
According to Napolitano, the goal is to make Homeland Security "a leaner, smarter agency." She began the process in February by asking agency veterans to come up with ways the department could perform more efficiently.
"We do control how we operate, and we do control how we manage our money and we do control how we manage our systems," Napolitano said. "And the challenge for us is how to do it more efficiently."
Some of the measures Napolitano outlined can be put in place almost immediately. Others, such as finding ways to conserve energy in the workplace and consolidating employee training and orientation, will take more time.
When the agency was created in 2003, it became the organizational head of many government agencies, like the Federal Emergency Management Agency, Secret Service, Coast Guard and agencies dealing with immigration and border protection. Napolitano noted that many of those entities, including the Department of Homeland Security, have their own official seals and logos.
She said the department will save $3 million by shutting down the design and production of any new separate seals and logos for the various entities that are part of Homeland Security.
E-mail to a friend

All About U.S. Department of Homeland Security • Janet Napolitano