(CNN) -- A tightened version of President Obama's $3.6 trillion budget moved through a key Senate committee Thursday night.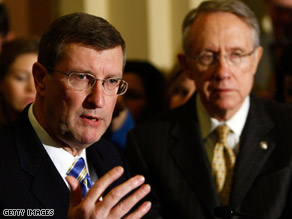 Sen. Harry Reid, right, says he expects Sen. Kent Conrad's version of the budget to pass.
The Senate and the House are expected to vote on different versions of the budget next week.
"The budget we have now passed out of the Budget Committee preserves the core priorities in President Obama's budget plan," Sen. Kent Conrad, chairman of the committee, said in a statement.
Conrad, D-North Dakota, trimmed the president's original proposal in response to congressional projections showing larger-than-expected budget deficits over the next several years.
Conrad said he had preserved the president's major initiatives in education, energy and health-care reform in the wake of "new realities" on finances without sacrificing the administration's deficit reduction goals.
Obama has pledged to halve the deficit by 2013, a goal Conrad says his budget maintains.
Republicans and some conservative Democrats, however, have criticized Obama's budget for its hefty price tag.
Obama maintains that his budget -- and its big investments -- are essential to economic recovery.
After being labeled by Democrats the "party of no" for criticizing the budget without offering solutions, House Republicans said Thursday that they have come up with a plan B.
"Two nights ago, the president said, 'We haven't seen a budget yet out of Republicans.' Well, it's just not true, because here it is, Mr. President," House Minority leader Rep. John Boehner said Wednesday as he held up a booklet that he said was a "blueprint for where we're going."

Watch GOP leaders unveil their 'leaner' budget »
The details of the GOP budget will be presented on the House floor next week, said Rep. Paul Ryan, R-Wisconsin.
"We're going to show a leaner budget, a budget with lower taxes, lower spending and lower borrowing," Ryan said.
The blueprint includes familiar Republican proposals to limit "wasteful" government spending, cut the size of government and provide incentives to private entities to expand access to health care. It also includes a major overhaul of the tax code, proposing a marginal tax rate of 10 percent for income up to $100,000 and 25 percent for any income above that level.
White House Press Secretary Robert Gibbs laughed off the Republicans' proposal Thursday, joking that their blueprint has more pictures of windmills than charts.
"It's interesting to have a budget that doesn't contain any numbers. I think the 'party of no' has become the 'party of no new ideas,' " he said at the daily briefing.
Obama defended his budget at an online town hall meeting Thursday, saying, "it's a budget that cuts the things we don't need to make room for the investments we do, a budget that cuts the massive deficits we've inherited in half, by the end of my first term, and offers a blueprint for America's success in the 21st century."
Senate Majority Leader Harry Reid said he is confident that the full Senate will pass Conrad's version of the budget next week.
Conrad's budget strikes Obama's proposal to set aside $250 billion in case more money is needed for the financial sector rescue.
It also curtails Obama's fix of the costly alternative minimum tax and doesn't account for increased payments for doctors who care for Medicare recipients, said Sen. Judd Gregg of New Hampshire, the top Republican on the Budget Committee
"You can get these presidential numbers down by using a lot of gimmicks that the president didn't use. That would be a mistake. Let's be honest with the Americans," Gregg said Tuesday.
Conrad has repeatedly said that his plan is not a "gimmick."

Republicans also have been critical of Conrad's plan to calculate the budget deficit over five years instead of 10, meaning a common measure of government spending, the 10-year cost, wouldn't officially be part of the price. Gregg has accused Conrad of trying to hide the true cost of the plan.
"In the 34 years of the Budget Act, 30 of those 34 years we have done a five-year budget, including the last five years, including two when Sen. Gregg was Chairman of the Committee," Conrad said Thursday.
E-mail to a friend

CNN's Kristi Keck and Louise Schiavone contributed to this report.
All About John Boehner • National Economy • Barack Obama