By Kristi Keck
CNN





(CNN) -- House Republicans on Thursday said they have come up with an alternative proposal to the president's budget, following criticism from Democrats that they have become the "party of no."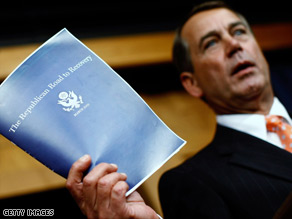 Rep. John Boehner says President Obama's budget is "completely irresponsible."
"Two nights ago the president said, 'We haven't seen a budget yet out of Republicans.' Well, it's just not true because -- Here it is, Mr. President," said House Minority leader Rep. John Boehner, as he held up a booklet that he said was a "blueprint for where we're going."
The details of the GOP budget will be presented on the House floor next week, said Rep. Paul Ryan, R-Wisconsin.
"We're going to show a leaner budget, a budget with lower taxes, lower spending and lower borrowing," Ryan said.
President Obama and other Democrats have accused the Republicans of offering only criticism and no solutions when it comes to Obama's budget.

Watch GOP leaders unveil their 'leaner' budget »
Earlier this month, the Democratic National Committee launched a "party of no" clock that was counting the time between the announcement of Obama's budget and the presentation of a Republican alternative.
Boehner on Thursday called Obama's record $3.6 trillion budget "completely irresponsible."
"Our plan curbs spending, creates jobs and cuts taxes, while reducing the deficit," said Boehner, R-Ohio. Read the GOP outline (pdf)
Asked where the cuts would be coming from, Boehner said, "We'll wait and see next week."
Rep. Mike Pence, R-Indiana, said Wednesday he hoped Congress would adopt the GOP alternative, but admitted, "It's not likely."
But, Pence said, he will always believe "that a minority in Congress plus the American people equals the majority."
"We intend to take our case for fiscal discipline, growth and tax relief to the American people from sea to shining sea and if the American people will rise up, anything is possible on Capitol Hill," Pence said.
White House Press Secretary Robert Gibbs on Thursday laughed off the Republican's proposal, joking that their blueprint has more pictures of windmills than charts.
"It's interesting to have a budget that doesn't contain any numbers. I think the 'party of no' has become the 'party of no new ideas,' " he said at the daily briefing.
Obama defended his budget at an online town hall meeting Thursday, saying, "It's a budget that cuts the things we don't need to make room for the investments we do, a budget that cuts the massive deficits we've inherited in half, by the end of my first term, and offers a blueprint for America's success in the 21st century."
Obama maintains that his budget -- and its big investments in health care, energy and education -- are essential to economic recovery.
Facing objections to his proposals, Obama said Tuesday that "the critics tend to criticize, but they don't offer an alternative budget."
Democratic strategist and CNN political contributor Paul Begala reiterated that idea, saying Republicans weren't doing anything productive.
"Now the Republicans have what we Texans call the chutzpah to criticize Obama for doing too much," Begala wrote in a commentary for CNN.com.
"But where are the Republicans?" Begala wrote. "Doing nothing but complaining. Unless and until they do offer an alternative, they really have no right to whine about the president. For now at least, GOP stands for 'Got 0 Plans.'" Read the commentary
But Republicans in Congress aren't the only lawmakers objecting to Obama's budget.
Some centrist Democratic senators, whose support is critical to passing the legislation, have raised concerns about the long-term impact of the president's spending plan on the federal deficit.
In a letter to the Senate Budget Committee dated Tuesday, 12 of the 16 members of the centrist Senate Democratic coalition -- which calls itself "the moderate Dems Working Group" -- expressed grave concerns about the direction of the president's budget.
Senate Budget Committee Chairman Kent Conrad, D-North Dakota, trimmed the president's proposal in response to congressional projections showing larger-than-expected budget deficits over the next several years.
"The president is exactly right in terms of his priorities for the country," Conrad said Thursday on CNN's "American Morning."
"Reducing our dependence on foreign energy, focus on excellence and education, and health care reform. Those are the key priorities for the country as well as dramatically reducing the deficit but, look. We've had a new forecast come out that said we've lost $2.3 trillion of revenue in the next ten years, so obviously we have to make adjustments to his budget," he said.
Conrad said he had preserved the president's major initiatives in education, energy and health-care reform in the wake of "new realities" on finances without sacrificing the administration's deficit reduction goals.
Senate Majority Leader Harry Reid said Wednesday he is confident the full Senate will pass Conrad's version of the budget next week.
Publicly, the administration has tried to minimize differences between Obama's budget proposal and changes sought by congressional Democrats.
The "House and Senate budget committees are taking up resolutions that are fully in line with the president's key priorities for the budget," White House Office of Management and Budget Director Peter Orszag said in a conference call Wednesday. "There have been some changes made ... but they are 98 percent the same as the budget the president sent up in February."
Later Wednesday, Obama huddled with Senate Democrats on Capitol Hill in an effort to save some major domestic priorities in his budget.

With some Democrats on the fence about the budget, Republican strategist Kevin Madden said the GOP now sees an opportunity for their party to make gains.
"There is a very strong degree of sticker shock, not only from Republicans up on Capitol Hill, but from Democrats," he said. "And I think what Republicans see an opportunity there ... that growing gap between his personal popularity and the popularity of his policies."
E-mail to a friend

CNN's Louise Schiavone contributed to this report.
All About John Boehner • National Economy • Barack Obama